Note: I'm a former M&A VP-gone-freelance. I've used most of the websites in this article to earn 7 figures in freelance work and have built multiple businesses with them, but I won't pull any punches. Everyone's fair game; strap in.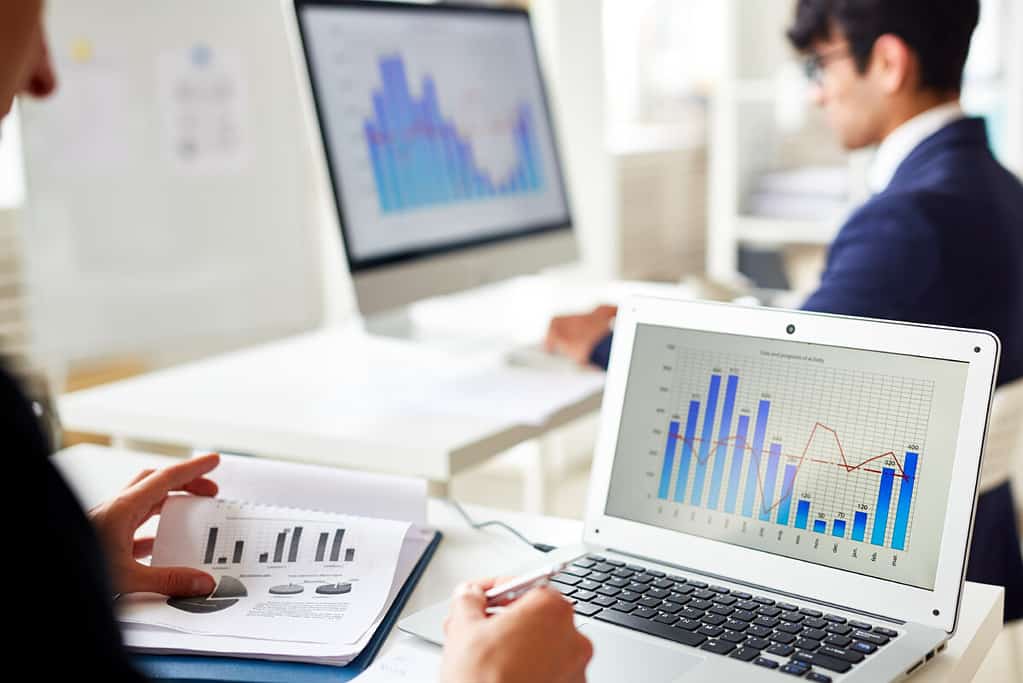 Table of Contents
If you're skeptical (and seasoned) like me, you'll quickly find out that not everyone who advertises "we're THE freelance platform for finance pros" is telling the truth.
Here's the real deal.

1. Toptal
For highly skilled professional accountants and other financial professionals like CFOs, Toptal is the freelancing platform to use. As far as freelance websites for finance, Toptal is definitely up there.
Its name is a play on words: only the top 3% of talent in a given industry are permitted to use this platform.
But is it really so exclusive?
And once you get in, is the juice worth the squeeze?
I've been through Toptal's interview process and have been an active member for years, so you'll get the low-down straight from the horse's mouth of whether Toptal is worth joining.

Every freelancer working on Toptal must go through a fairly-rigorous evaluation to ensure they meet the criteria for this elite freelancing site.
This has a major benefit to freelancers: having your name on this platform will connect you with truly meaningful work at excellent rates.
…and it's great because Toptal jobs are generally pretty high-quality in my experience. Toptal clients want pros, and by-and-large they're ready to pay. So you aren't competing with too many people, and unique skills & industry experience are highly valued on Toptal.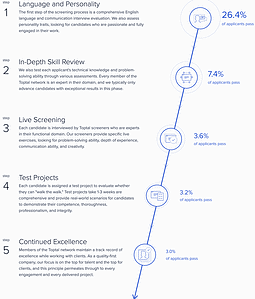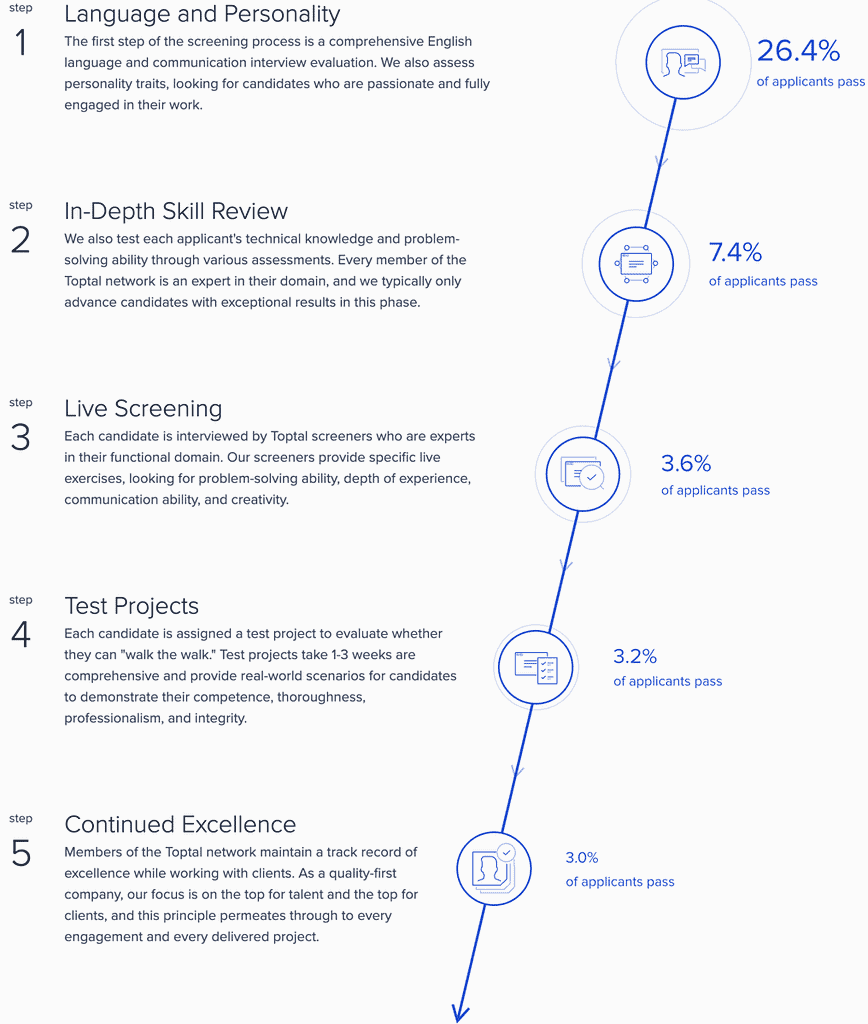 Once you're on Toptal, here's how the jobs work: Toptal reps source the potential client and assess their needs, then they put together a job post which gets listed within the freelancer portal.
From that point, there are two ways for a Toptal freelancer to win jobs:
Invited to Apply by Toptal: Toptal reps will go through the top freelancers they think are best-suited for the client's project, and reach out to a short list directly via email, Toptal app and Slack notifications. The freelancer can then submit a proposal, answer a few questions, and confirm their interest in the job. Major benefit: On Toptal, being "shortlisted" is a true short list – you're typically one of 2 to 5 candidates who have been shortlisted for an interview, and will likely speak with the client.
Direct Application to Toptal Job: When jobs are listed in Toptal's portal, freelancers can reach out directly for jobs that interest them without being shortlisted. There's a lower likelihood you'll reach an interview with the client, but in general it's still higher than most other freelance platforms.
In my experience, there are ample finance jobs on Toptal – and they tend to have a budget you're probably going to be interested in.
Toptal Highlights
Best for: Highly-experienced experts
Criteria to Join: Pass a multi-round interview process + and an unpaid test project
Typical Project Size Range: $2,500-$15,000, set your own hourly rate***
Fees: None.
Pros: All projects are high-level, Toptal finds clients for you, focused on niche specialties, high barrier to membership
Cons: Payment takes a very long time (can be 4-6 weeks), have to jump on invitations almost immediately to express interest, high barrier to membership
Platform's X-Factor: Toptal team handles everything. You just show up
Weird Quirk: You can't talk about pricing***
***if you're considering joining, you will want my take on whether Toptal is worth it.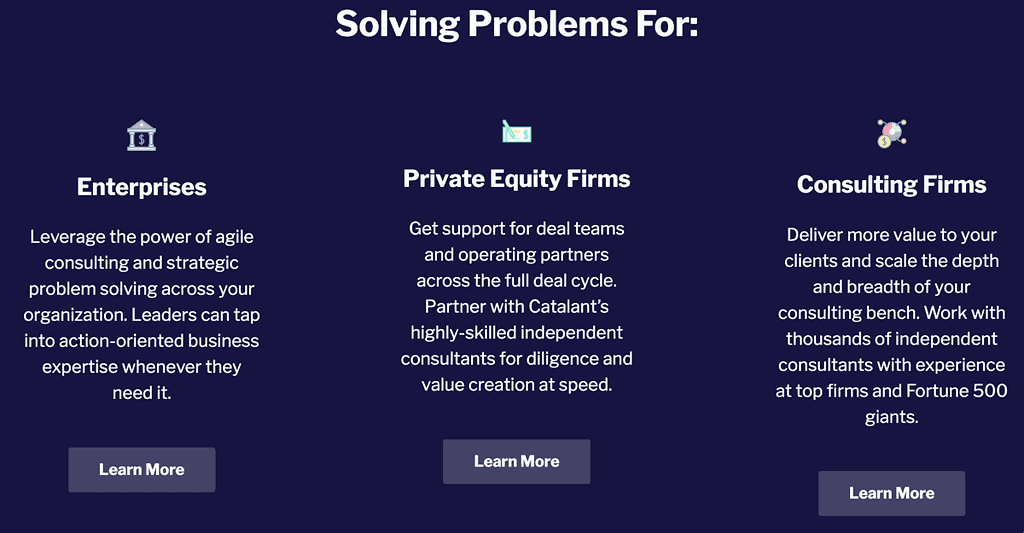 2. Catalant
Catalant is a unique freelancing website focused on service Enterprise, Private Equity and Consulting clients (typically larger firms than most other platforms out there). Catalant's niche is in creating a highly-specialized, richer talent pool than most other freelancing sites to target businesses hiring for more advanced roles.
Overall project size tends to be on the bigger side vs. other platforms, and freelancers don't lose a percentage of their earnings, but Catalant is among the slowest to pay out for work done across all platforms.

Catalant is designed for improving efficiency and sparking innovation through machine learning. Goal tracking, targeted freelancer searching, rate negotiations, and free sign-up are all features you can expect from Catalant – so it's a bit more structured than many other platforms.
Catalant is a great choice if you're a seasoned financial professional who wants to work with businesses looking for a specific skill set or experience. It streamlines the hiring process clients, and can potentially offer Finance and Management Consulting freelancer some pretty lucrative remote work that suits their expertise.
Catalant Highlights
Best for: Existing professionals, particularly in finance/management consulting
Criteria to Join: 18+ years of age, MBA or significant experience in your field, pass a screening, no felony convictions or fraud/dishonesty charges, plus active E&O insurance (really! see section 3.4 of Catalant's Terms of Use)
Typical Project Size Range: Most projects are in the $5,000-$15,000 range, but can go up to $100K+. Freelancers set their own hourly rate
Fees: None – Catalant does not take a cut of freelancer earnings
Pros: Access to enterprise clients, tough to get in
Cons: Takes a long time to get paid (net-60 days), jobs can get crazy-high interest
Platform's X-Factor: Barrier to entry typically means low competition – with numerous enterprise-level clients
Weird Quirk: Not the highest-volume platform, but some projects can even exceed $200K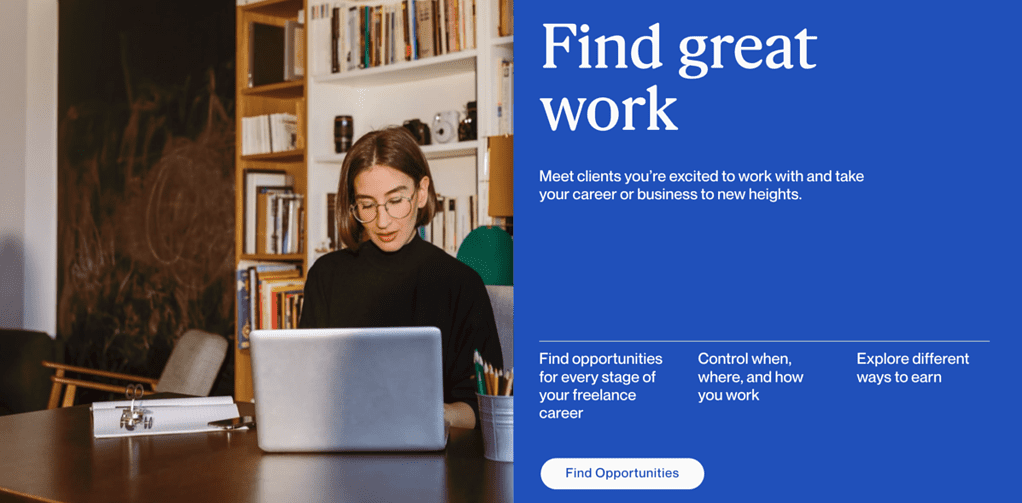 3. Upwork
Upwork is one of the most popular freelancing websites for several reasons. Even though Upwork is traditionally known for its web & mobile developer prowess, the Finance & Consulting category tends to run pretty strong, particularly for bookkeepers, financial modelers and even more experienced professionals.
Upwork has a diverse client base, which can seem a bit hit-or-miss at times, so you need to know your way around the platform a bit in order to win solid jobs. Fun fact: Upwork's average client spend is about 19x that of Fiverr.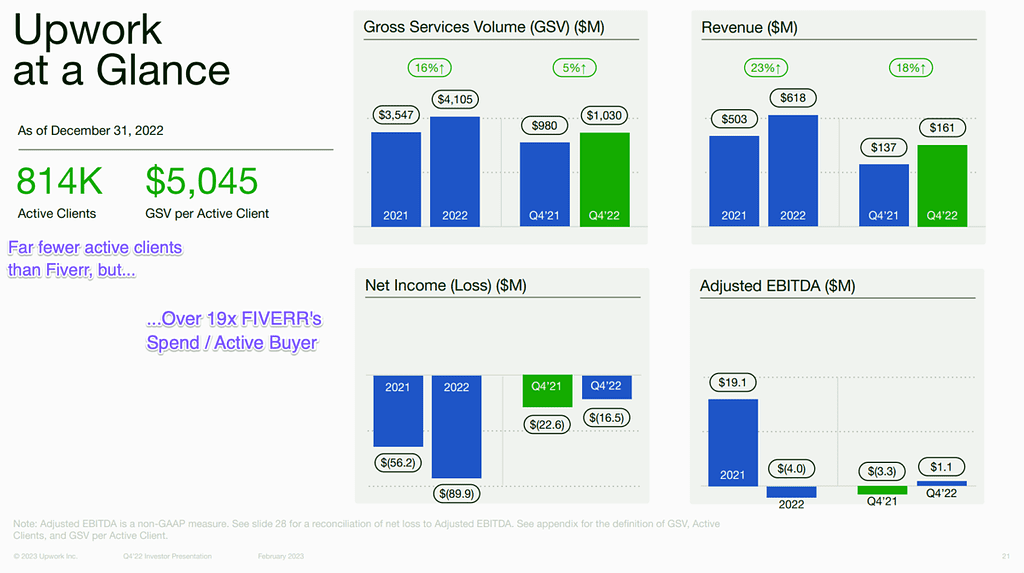 On Upwork, momentum is king: when you're an established contractor on Upwork, you can really dominate. (and we have a guide that can help you get there)
A well-rounded platform with both a web platform and mobile app, Upwork's marketplace goes both ways:
In Talent Marketplace, clients can post their projects and accept proposals from interested freelancers
In Project Marketplace, freelancers can set up projects that individuals or businesses can hire them to complete
This system ensures that every freelancer has the opportunity to cater their offerings to the type of work they wish to do. It also helps freelancers promote themselves for jobs relevant to their expertise.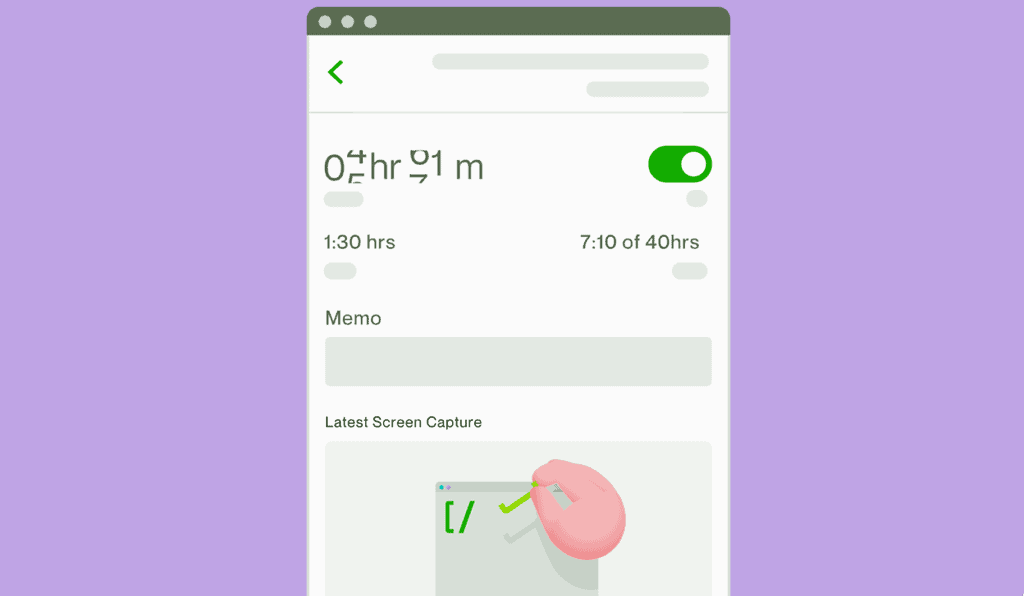 Upwork offers a lot of flexibility: Contracts can be ongoing or just for a single project, and jobs can be set up on an Hourly basis, Fixed fee and more.
One of the best things I personally loved about Upwork when I got started: certainty of payment.
If I did a job, I knew I would get paid through Upwork's Hourly Protection. Same thing for fixed-price jobs with milestone contracts (though there's a few quirks to Upwork Fixed-price jobs you really need to know about if you're considering going that route).
Basically, if you're following Upwork's rules, you're never working for free.
Newbie freelancers can start out with broad generalizations for their skills within Upwork's finance and accounting section, but niche specialists such as fundraising consultants and financial modelers can advertise themselves as such to help find work that matches their level.
Upwork Highlights
Best for: Beginner to highly specialized expert
Criteria to Join: Open to everyone pending application approval
Typical Project Size Range: $500-$10,000+, hourly rates vary
Fees: Recently changed to 10% flat fee on all earnings
Pros: Huge marketplace, easy to get started, plenty of diverse projects available for every level
Cons: Client professionalism can be an issue, project structure can be complicated, prone to tech instability
Platform's X-Factor: Flexible payment options, momentum-based wins
Weird Quirk: Tremendous rewards for those who understand the value of selection bias
If you're in finance and you want to crush it on Upwork right out of the gate, we have a full step-by-step guide you're definitely going to want to get in on.

4. LinkedIn Services Marketplace
LinkedIn Services Marketplace, formerly known as LinkedIn Profinder, is a freelance platform that puts a unique twist on the job-search process.
With Services Marketplace, clients input their industry and answer questions about the project such as budget, time frame, what type of work is involved, the preferred communication method, and more. This spec is then sent out to freelancers who can submit a proposal if interested.
There's a few key benefits to using LinkedIn Services Marketplace:
If you're a finance industry pro, you probably already have a LinkedIn account
Since LinkedIn is one of the most dominant social media platforms for professionals, freelancers can have a lot of work available to them on a regular basis
The Services Marketplace trial is completely free, which means you can get a great feel for the platform before committing to a monetary investment: 10 free proposals are included.

LinkedIn Services Marketplace mitigates the overwhelming experience of being lost in a flood of proposals; the platform works on a first-come-first-serve basis and only 5 proposals can be accepted. If you're one of the first five freelancers that submit a proposal for a project, you have a great chance of being selected.
But there's a downside too: LinkedIn is already one of the largest social media networks in the world, and there's not really much barrier to getting in on Services Marketplace – so you might have a bit more competition than you'd ideally like.
LinkedIn Services Marketplace Highlights
Best for: Established professionals with a solid work portfolio
Criteria to Join: LinkedIn account
Typical Project Size Range: $200-$2500
Fees: Free, just create a Services page
Pros: Access to everyone on LinkedIn, widest reach in the professional community
Cons: Most clients aren't serious, LinkedIn is totally hands-off, no help to find good project matches, clients aren't used to it, reviews system lacking
Platform's X-Factor: Massive reach
Weird Quirks: As a client, you see 1,000,000+ potential freelancers in multiple categories. LinkedIn does not handle payment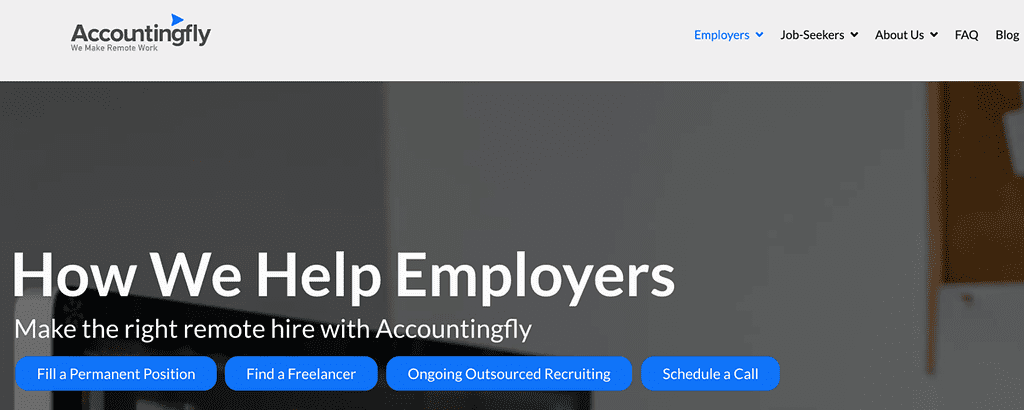 5. Accountingfly
Accountingfly is what it says it is – a freelance platform for finance & accounting pros. With the rise of freelance and the current shortage of accountants, freelance accountants can have a pretty compelling option for flexible remote work.
This platform is designed to fill holes in personnel, whether it has arisen from a spike in client demand or a resource shortage, a very common occurrence in the accounting industry.
On Accountingfly, every client looking to hire a remote accountant goes through a four-step assessment process with the Accountingfly staff to ensure the right freelancers are matched to the right jobs. Interestingly, Accountingfly boasts a 90% success rate for its placements.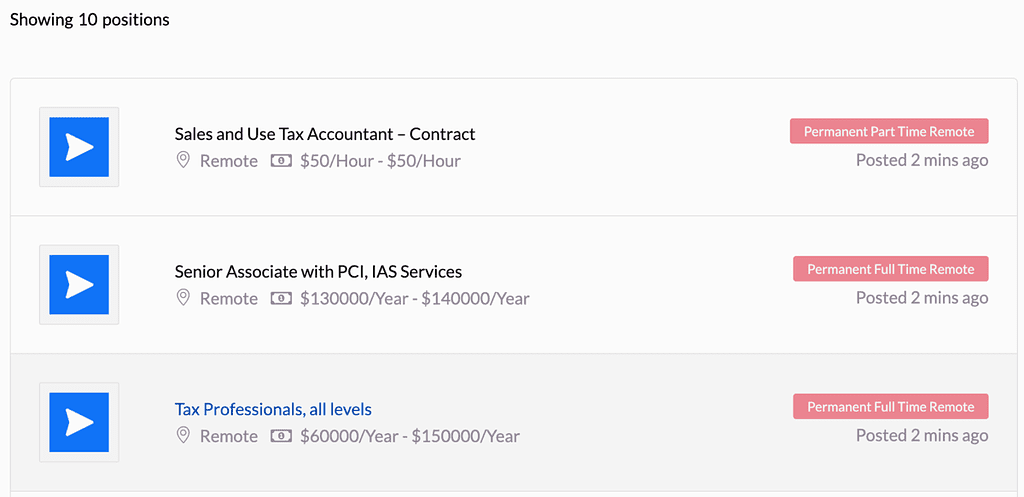 Rather than searching for freelancers manually, clients essentially hire Accountingfly to find the ideal candidate for them (it's a managed-service model). After learning about their needs and business culture, Accountingfly staff will then connect them with the right accountant, which takes the onus off both clients and freelancers having to initiate contact while streamlining the connection-making process.
Through Accountingfly, clients conduct interviews with their suggested candidates and receive onboarding support. Freelancers working with Accountingfly have the benefits of being protected from poor compatibility with a job or client and will always have Accountingfly to reach out to in case they have any contract-related questions.
Accountingfly Highlights
Best for: Beginner bookkeepers to established CFOs. Covers tax, audit, finance, controlling & more
Criteria to Join: Accounting credentials, e.g. CPA
Typical Project Size Range: Generally, $60K-100K+. Hourly rates $20-$100+ / hour
Fees: No fees for freelancers
Pros: Very easy to find permanent positions, no fees or surcharges, support for clients and freelancers after hiring
Cons: Job matching is unpredictable (can take anywhere from 2 days to 4 weeks to be matched to a job), some clients "just want more robots"
Platform's X-Factor: Accountant-specific focus + shortage = awesome
Weird Quirk: To get started, you don't create a profile like on other freelance sites – you just submit a resume

6. Fiverr
You'd probably never expect Fiverr to show up in a list of the best freelance websites for finance pros, but it's here because of one simple fact: it isn't what it used to be.
A few years back, Fiverr raised the cap on its maximum gig price for Fiverr Pro jobs – if you're in Fiverr Pro, you can list a Fiverr gig for up to $20,000 and send a Custom Offer of up to $50,000.
That made Fiverr extremely viable for finance pros looking for a high-volume platform with a wide international client base.
Fiverr takes security very seriously in every aspect of the freelancer-client relationship, so you're not at risk from a confidentiality standpoint. Personal information, payment methods, and communications are all encrypted and protected.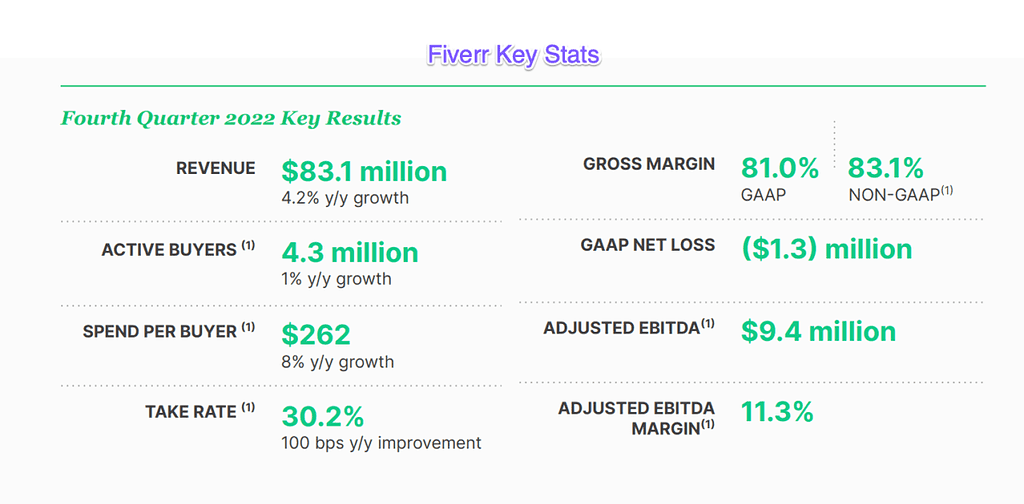 As a platform, Fiverr was originally designed for less-experienced freelancers to find suitable work, but Fiverr Pro works great for the experienced professional, from basic bookkeeping to serious accounting strategy for great rates across the board.
Just don't forget to price in the 20% platform fee!
Fiverr Highlights
Best for: Beginners to intermediate professionals
Criteria to Join: Open to everyone
Typical Project Size Range: $10-400. Fiverr Pro jobs can go up to $50K
Fees: 20% flat fee
Pros: Diverse marketplace, millions of active clients, user-friendly interface, can advertise your gigs to boost volume
Cons: Client professionalism can be an issue, generally lower-paying projects, can be difficult to find opportunities to make more money, heavy flat fee
Platform's X-Factor: Extremely accessible, Fiverr Pro is extremely desirable
Weird Quirk: You can get rejected from Fiverr Pro, then reapply and be accepted later
The Verdict
Overall, each of the above freelancing websites offers an excellent platform for uniting financial professionals with the people, small businesses, and large corporations that need them. Whether you're looking to supplement your income with some freelance bookkeeping work or you're a finance professional looking for a new role as a CFO, I can tell you from experience: these platforms can make the connection happen.
My advice: Pick one platform, learn it, own it, and see where it takes you.
This article originally appeared on freelancemvp.com, is copyright Freelance MVP LLC and is not authorized to appear anywhere else. If you have found this article anywhere else, it has been stolen.