The Ultimate Beginner's Guide on How to Freelance on Upwork and Make Money Freelancing in 2023
Table of Contents
This is my easy, step-by-step guide to learn how to start freelancing on Upwork and make money from it. For 5+ years, I've been freelancing & making money online. In my first 3 years on Upwork I made over $1,000,000 — this is the best way to start freelancing (and soon make money from freelance) in 6 steps that'll have you on Upwork in 10 to 15 minutes.
Disclosure: Please note that some of the links below are affiliate links and at no additional cost to you, I'll earn a commission. When you purchase hosting using my affiliate links, they compensate me, which helps make this step-by-step guide to start freelancing on Upwork and make money freelancing free of charge to you. Know that I only recommend products and services I've personally used and stand behind.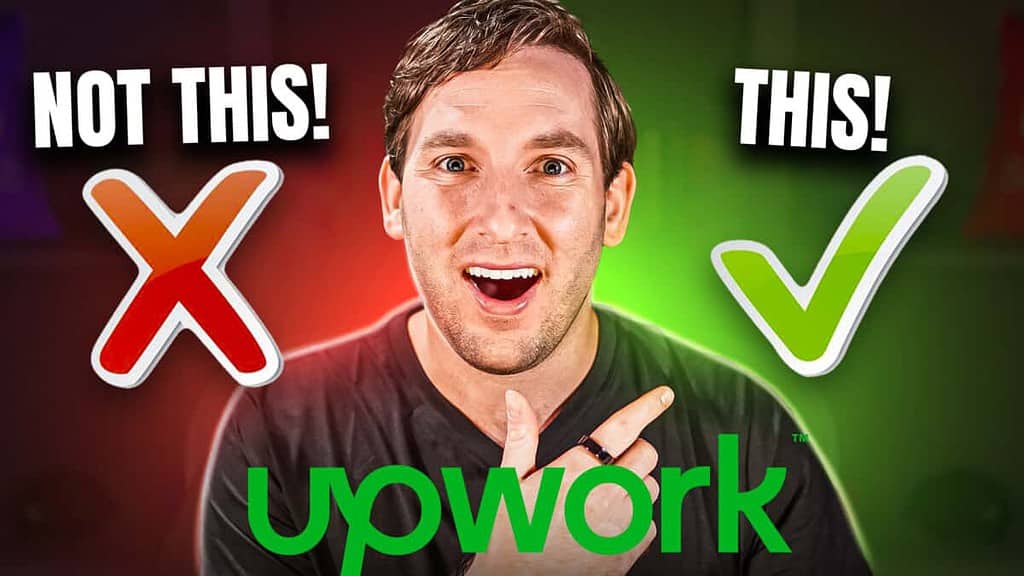 What is Upwork?

Upwork is the world's largest freelance marketplace with over $4 billion in annual Gross Transaction Volume. Upwork gives freelancers the opportunity to connect with clients for paid remote work across a wide variety of categories, including Web & Mobile Development, Graphic Design, Marketing Automation and more.
Should I start freelancing on Upwork?

As the largest freelance marketplace by Gross Transaction Volume, Upwork offers a tremendous opportunity to grow a freelance business. Upwork's clientele offers the ability to scale up to project scopes above $10,000 in nearly every niche, without the "deep experience only" barriers of other marketplaces such as Toptal or Catalent.
Is Upwork different from Fiverr?

Upwork is different from Fiverr in a few critical ways:

Client-driven. On Upwork, clients post jobs for freelancers to apply to. Fiverr is a gig-driven marketplace
Higher rates. Upwork is generally geared toward higher-paid engagements with skilled professionals. Fiverr earned its reputation with the slogan: "Get it done for $5"
Flexible engagements. Upwork allows freelancers to charge hourly rates, fixed fees or weekly retainers. Fiverr only allows for fixed-fee gigs
Lower fees. Upwork has a flat fee of 10% on all earnings. Fiverr has a flat fee of 20%. Upwork wins.
Is it still possible to make money freelancing today?

Freelance marketplaces have historically grown by circa 20-30% per year, and represent billions of dollars in annual transaction volume. New freelancers join freelance marketplaces every day, and regularly win jobs within weeks of signing up.
How much does it cost to start freelancing?

It's possible to get started freelancing without spending any money whatsoever. In most cases, freelance marketplaces are free to join but do offer paid memberships and one-off services relating to additional client exposure and other premium features.
Follow these 6 steps to learn how to start freelancing and make money today:
If you're ready to take the leap and learn how to start freelancing on Upwork as a source of real online income, then let's dive in.
1. Pick Your Freelance Niche
First, it's time to pick a niche for the freelance jobs you will do & sign up for Upwork.
Your freelance niche is your freelance specialty. It tells clients the job that you do, the service you provide, and the industries you focus on as a freelancer. Typically, your niche will be an area you have experience in, specialized domain knowledge on, or are simply passionate about.
What if I can't decide on a freelance niche yet?

It is typically best to determine your niche before signing up to Upwork. If you're just getting started freelancing but can't decide on a niche, pick a job you've done before, have specific domain knowledge on, or are simply passionate about. You can always change your niche later on.
What are the most in-demand Upwork jobs?

According to Upwork's 2023 data, the highest in-demand freelance skills are in the Tech, Marketing and Design / Creative categories. Among the most in-demand skills, the highest-growth categories are Sales & Business Development (54% annual growth), Data Entry (47%), Accounting (45%) and 3D Animation (44%).
What happens if my niche isn't listed on Upwork?

If your niche isn't listed on Upwork, choose the category that most closely represents the service you will provide. Upwork is constantly adding new niche categories, so be sure to regularly review the job category you chose to see if a new category has been added.
Can I change my Upwork niche after I create my account?

You can change your Upwork niche at any point in time. You can change it to something totally different after you're signed up, without violating Upwork's Terms of Service.
Can I start freelancing even if I don't have any experience?

It's possible to freelance without having previously held an official job. In that case, your best bet is to emphasize a) prior work you've done as an independent contractor, b) examples of your work, and c) any technical or industry experience you may have from prior roles.
2. Sign Up For Upwork
Once you've decided on your niche, it's time to create an Upwork account.
To create your Upwork account and get started in freelance, visit Upwork.com and click Sign Up. You will be asked to provide details about your work experience, add a photo and upload ID for Upwork account verification.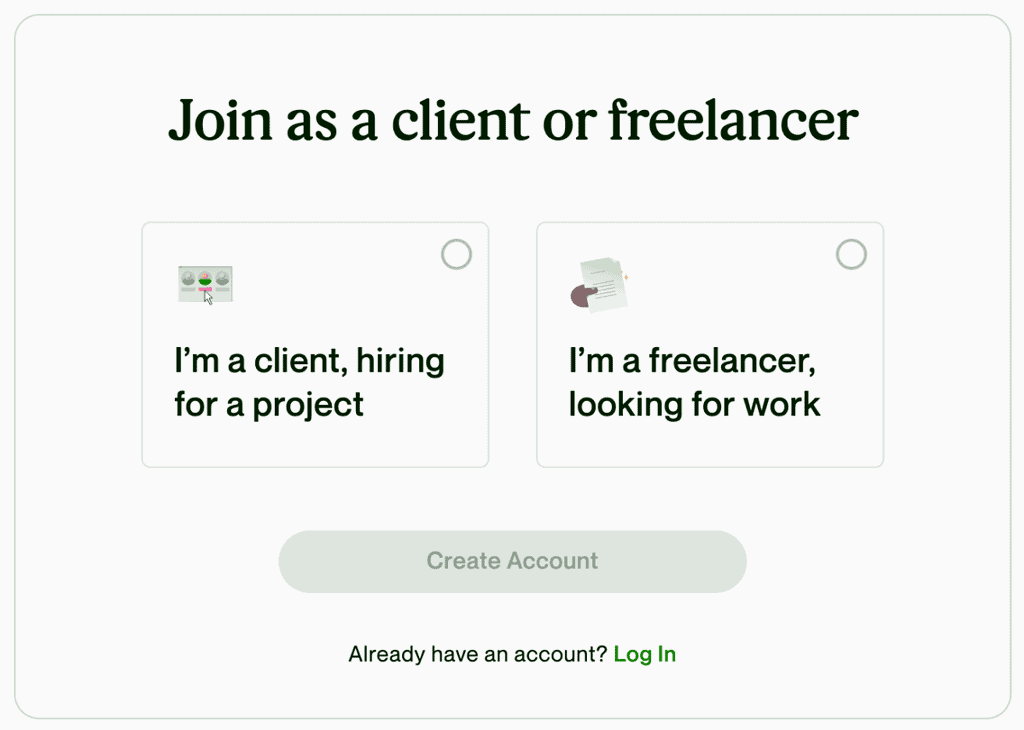 What is Upwork account verification?

When creating your Upwork account, Upwork will require you to submit official identity documents and attend a brief video call for identity verification purposes. Once verified, you will be able to submit Upwork proposals for freelance jobs. Lack of verification can lead to Upwork rejecting your account.
Create An Upwork Profile That Attracts Clients
Your profile is one of the most important aspects of your Upwork account because it's your chance to show potential clients what you can do.
Your Upwork profile is your digital storefront: it's an opportunity to showcase the services you provide to potential clients. Clients can use your profile to assess your past work, contract history, client feedback, and work experience when considering hiring you for a job.
Which part of Upwork profile is most important?

All of these are important, but there are really two groups. Profile Photo, Headline, and Description are basic fundamentals, and the two that are most likely to win jobs for you versus other people are your Reviews & Work Examples.
What should I write in my Upwork profile?

If you're struggling to figure out what to write, start by researching what the most successful freelancers are doing. Most successful freelancers will have extremely well-written profile descriptions that are very persuasive and speak to clients' true desires. Successful freelancers' client feedback can also offer clues on what clients value in an Upwork freelancer in terms of skills, experience, work quality & deadlines.
Filling out your Upwork profile isn't as simple as just copy-pasting your LinkedIn profile. A well-written, persuasive profile that speaks to a client's true desires can help you increase the chances that Upwork clients will notice you when you submit a proposal.
Take Your Upwork Profile Photo
The best Upwork profile photo is really simple: Just stand in front of a plain white wall, with good lighting, smile, take the picture with a cameraphone and upload it to your profile.
For best results, adjust your phone camera's settings to maximum resolution (many smartphones have the ability to capture high-res photos) and use additional lighting at face level – you could even use a desk lamp stacked on some books – to ensure your entire face is well-lit without shadows.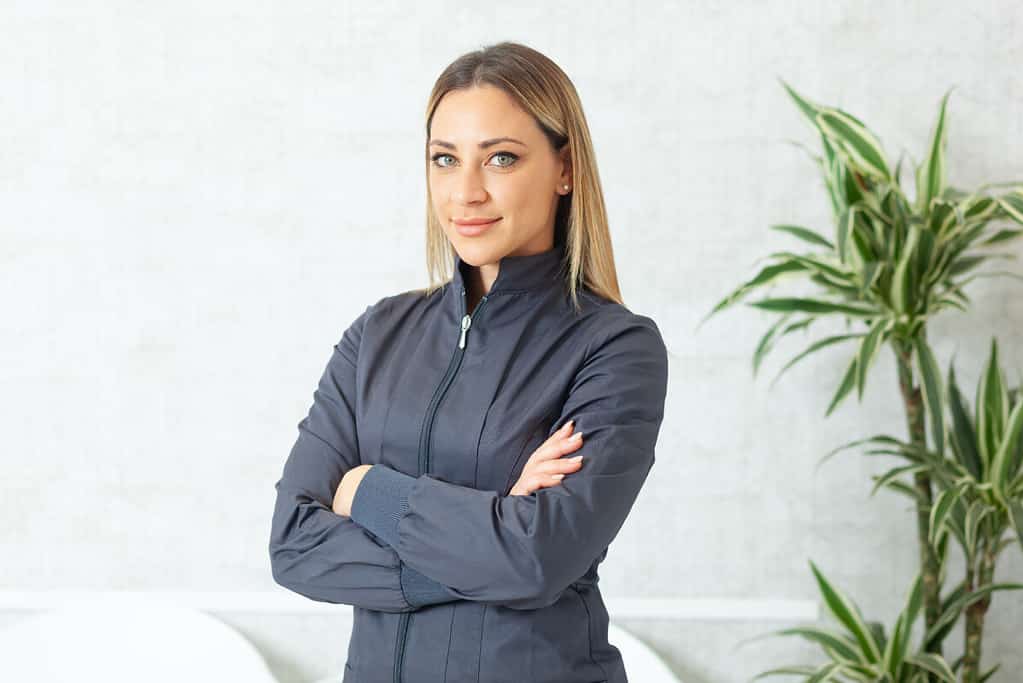 Can I edit Upwork profile picture?

Upwork has software that can check if a freelancer edited their profile photo, so edited photos will likely be rejected. This includes retouching and background removal.
Write A Great Upwork Profile Headline
Your Upwork profile title is a huge part of first impressions, and it's often one of the first things potential clients will notice about your Upwork profile. Make sure you strike the right balance between explaining what you do and selling yourself at the same time.
For the most part, a great Upwork profile headline focuses on the results that client wants to achieve. The more targeted you can be on the results you deliver for clients, the more likely your ideal freelance clients will respond to your Upwork proposals.
Here's your structure, as a starter: [What You Do] | [Big Results] | [Tech]
Examples of great Upwork profile headlines

Sales Email Copywriter | 10x Your Open Rates | Mailchimp Hubspot Activecampaign
Social Media Marketer | 100k+ Instagram Comments 1M+ Youtube Likes | Buffer Hootsuite Sprout
CPA Accountant | 10M in Taxes Saved | QBO Quickbooks Xero
Youtube Video Editor | 90%+ Retention | Premiere Pro After Effects Final Cut
How to write a great Upwork profile headline

Upwork profile headlines can be niche-specific, so it's often good practice to research other successful freelancers in your niche and check out what's working for them.
Write Your Upwork Profile Description
Make it as focused on the client and the results you can deliver for them as much as possible. Be as detailed as possible, targeted to your niche.
Remember: your profile is a living thing. Keep your profile up to date as you acquire new skills and experience, and improve it regularly.
Do's and don'ts of Upwork profiles

In your Upwork profile, don't:

Write about yourself first. "Hi, my name is John Smith and I am a [job title] living in [city], and I do a lot with [technology]"

Making blanket promises. "I promise to deliver…"

Showcase lack of focus. "I do some graphic design, 3D animation, motion graphics, writing…"

Just write what you're thinking about. This is not your stream of consciousness; it's a professional work profile.

---

Instead, do:

Write about your client first.

Concisely describe what you do. "I help [clients] achieve [their goal] by [service you provide] without [client's struggle]"

Include results you've helped clients achieve. "Past clients I've worked with have successfully…"

Include snippets from reviews. "Here are some of the things clients I've worked with have said about me…"

Know your limitations. "While I love working with great [clients], we would not be a great fit if…"
How do I write the best Upwork profile description?

On a basic level, a good profile description includes:

Description of the kind of clients you work with
A brief overview of your skills and experience
The type of work you're interested in doing
Examples of results you've helped clients achieve in the past
Certifications, training, and education related to the work you do
The Most Important Part Of Your Upwork Profile Description
The first 4-5 lines of your profile are what the client is going to see first. That is your most valuable real estate, so ensure you've written a great hook that makes them want to read more.
You Can Use Emojis To Organize Your Profile
You can actually copy-paste emojis into your Upwork profile description. Use your judgment, be professional, don't go overboard.
Once you have an awesome description, that will do wonders for you in getting jobs on Upwork. It's one of your basic requirements for success. But beyond your Upwork profile description, your reviews and work examples will win the day for you.
Collect Reviews
Upwork is a reviews-driven platform, and client feedback is enormously important to your future success.
Reviews are more important to your Upwork success than money. When clients see that the value of your work is proven through a long track record of success with other clients, your chances of winning jobs dramatically increases.
But at this point you're probably thinking: OK, if client reviews are so important, how do I get them if I haven't worked with any Upwork clients yet?
What to do if you don't have Upwork client reviews

If you don't have Upwork reviews, you can obtain testimonials. Testimonials are different from client reviews in that Upwork client reviews add to your JSS and Upwork status, and can only be given when you complete a job. Testimonials, on the other hand, you can get from anyone: you send out a testimonial request via Upwork where you ask the testimonial provider to write something regarding their experience with you, and their response is what goes on your profile.
Who to ask for Upwork testimonials

The best testimonials are the ones from people that you know very well, and that know you very well. This can make prospective Upwork clients more confident in working with you and is almost certain to add value, even if you don't already have reviews from paying Upwork clients. Note: The person giving you the testimonial must have a LinkedIn account for verification purposes.
How to ask for an Upwork testimonial

Consider your testimonial request message carefully, because you really only get one shot. You can potentially write something to the effect of:

"Dear Mike, It would be super-helpful if you gave me a testimonial for my Upwork profile, it's totally free and they REALLY help me to win more work, so it would mean a lot to me. A couple of sentences would be really great – here are some things that might help:"

…and add a few questions that will help them structure their thoughts into a compelling testimonial.
Best questions to ask for Upwork testimonials

How long have we known each other?
Was there a time that I helped you with something that meant a lot to you?
Was it something you were struggling with for a long time?
Why was it meaningful to you?
Do you think this says something special about my character?
The sooner you can generate Upwork reviews, the better – but that requires winning jobs on Upwork first. Until that point, it's best to focus on something 100% in your control: your Upwork Portfolio Work Examples.
Create The Best Upwork Portfolio Work Examples
If there's one place you should focus your early efforts on, it's on your work examples.
After you got done with the rest of your Upwork profile, you should spend a lot of time improving what you showcase as your work examples. Freelance clients often shop visually, and eye-catching work examples can do so much of the heavy lifting for you on Upwork and could even get you hired.
A convincing work example is one that a client sees, and will instantly say, "THAT'S WHAT I WANT!" and send you a project invitation because you just showed them the kind of result they want to achieve.
What do I do if I don't have any freelance work examples?

If you don't have any existing work examples, you will need to create them. You can research what other highly successful Upworkers are doing, to inspire work examples you can create. If you just started your Upwork journey, aim to develop 3 work examples to get yourself started.
Do tags improve your Upwork search ranking?

Job & Skill Tags index into Upwork's search algorithm, and can help the search engine understand the context of a freelancer's profile better. Consistent tags can help Upwork's algorithm surface a freelancer's profile to potential clients, thus increasing the chances of winning Upwork jobs.
How to tag Upwork Work Examples

When uploading work examples into your Upwork portfolio, you will be offered an option to tag the work example with Job and Skill Tags. Tags can also be added to existing work examples by pressing Edit on a given work example.
Which Upwork work example display option is best?

There are multiple work example display options, including Gallery, Case Study and Classic. Try Classic to start off with, but tweak these based on what best fits the work you do by seeing what a potential Upwork client sees using the See Public View button on your profile page.
How can I improve my Upwork profile?

Here's a quick lightning round of other things you need to do once you complete your profile:

Tag your profile skills and categories – it's super important for searchability
Make sure you are not listing yourself as entry-level. You are not entry-level. If you're not an expert, you're intermediate. But if you're watching this video then you're the kind of person who should always seek to learn and make it your goal to be an ACTUAL expert as quickly as possible.
How do I create the best Upwork work examples?

Upwork work examples can come in many forms, but some of the best work examples focus on:

Demonstrable results for clients
Key performance indicators
Screenshots of deliverables you have produced
Designs of your work
Uploaded files
3. Find Upwork Jobs
How Do I Get My First Upwork Job?
The simplest way to start finding work on Upwork is by browsing through jobs listed in its vast marketplace. Meaning: Browse Upwork categories, then search terms for jobs that keep popping up.
Upwork has hundreds of thousands of active listings and new job postings added daily so it's easy for freelancers to expand their client base and grow their Upwork income by tapping into this expansive pool of opportunities.
Browse Upwork Jobs To See What Clients Want
Start by browsing Upwork jobs. Click into the categories, and just go down the list. You're looking for:
What can you do?
What could you be REALLY GOOD AT, that you like to do or are naturally predisposed to do?
Look for things that seem like lots of clients are making postings for similar jobs. The more specialized you can get, the better.
Browse a few categories, and note down things that could be a good fit for you. There will be some trial and error in the beginning, so feel free to try different things. You can specialize later on once you find out what works for you. For now, we're just trying to figure out what you could do.
Search For Specific Terms
Once you've spent some time browsing jobs and getting a feel for the jobs currently out there, the next step is to start searching. Search for specific terms that keep popping up on the jobs that looked interesting to you.
Play around with some of Upwork's search filters, and note the job volume in that category.
Some things you might want to write down are:
# of Entry-level jobs for a given search term
# of Intermediate-level jobs for that search term
# of all jobs in your country vs. outside your country
How to get Upwork reviews as a beginner

When you're just getting started on Upwork, pay attention to the hourly jobs that seem really small, with a quick turnaround that won't take long to deliver. These projects can offer a great opportunity to book some quick wins and generate several 5-star feedback, without getting locked into a low hourly rate for a long-term project.

You can use these jobs as a launchpad to raise your rates.
Should Upwork beginners do hourly or fixed-price projects?

Don't do fixed-price contracts until you really get a feel for the platform, and know exactly how long a given project will take you to complete.
Especially in the beginning, it's super important to only take on jobs that you KNOW you can deliver really excellent work on. As long as you can deliver awesome results, those can actually be quick wins that are fantastic review builders for you.
Set Up Your Upwork Tech
Set up Saved Searches for your best Upwork search terms. Saved Searches aggregate jobs with search criteria you've specified, allowing you to keep track of jobs that could be a fit for you.

How to set up Upwork Saved Searches

To set up Saved Searches, use Upwork's Job Search function in the search bar. Refine your search using filters for your chosen search term(s). Once you've narrowed it down to 50-300 jobs that could be a great fit for you, press the Save Search button next to the search bar. Your Saved Searches will aggregate onto your "My Feed" tab on your dashboard when you're logged in to Upwork on desktop or mobile app.

Once you have a list of regular clients, you're probably going to want to track your client relationships using a tool like ActiveCampaign.
Download the Upwork apps. Download both the Desktop app (critical because that's how you'll get Hourly Protection) and your mobile app.
What apps does Upwork have?

The Upwork desktop app allows freelancers to send messages to clients and has a freelancer time-tracking system which is required to qualify for Upwork Hourly Protection.

The Upwork mobile app is available on the App Store or Google Play, and allows freelancers to receive notifications and send messages to clients while on the go.
Adjust your Upwork notification settings. Click on your profile picture in the top right hand corner, and go to Notification Settings. Just turn all your notification settings on at first, and you can turn things off as you go along.
4. Write Amazing Upwork Cover Letters
Now that you've set everything up, you're ready to start sending proposals to Upwork clients.
The most important part of any Upwork proposal is the Cover Letter, where you respond to clients' job postings and demonstrate your motivation to work together.
Sending a proposal to an Upwork client costs Connects, Upwork's digital currency. Connects can be obtained monthly for free, purchased, or earned.
Write Your Best Upwork Cover Letter
Don't mess around for months and burn through connects by struggling to write bad Upwork cover letters – just watch this video for a step-by-step walkthrough of how to write Upwork cover letters the right way from Day 1, including the actual cover letter text you can use:
Naturally, in this video we don't cover everything about the specifics and intricacies of every proposal, but remember that these are the basics you need to grasp & accomplish first if you don't want to waste Upwork connects and struggle endlessly.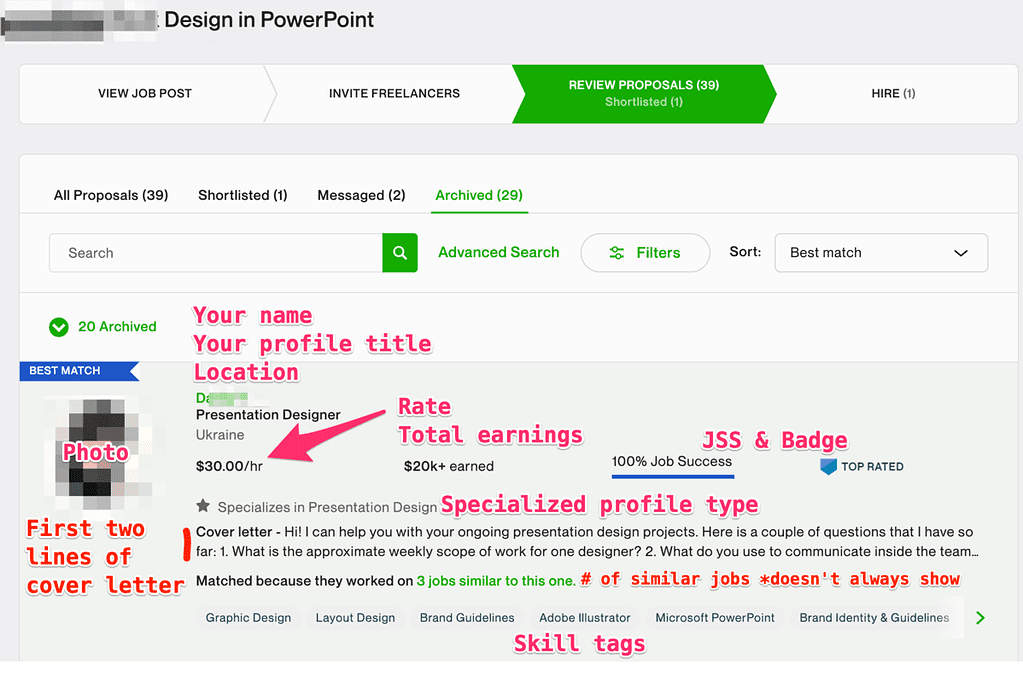 Biggest mistakes most freelancers make when writing Upwork cover letters

When sending Upwork cover letters, don't:

Start with "Dear Sir / Madam" or another generic greeting
Apply to jobs more than 5 days old
Offer free work
Provide direct contact details like email or phone number before accepting a contract
Let clients pay you outside of Upwork
Ask clients to pay outside of Upwork
Suggest clients pay outside of Upwork
8 rules to structuring the perfect Upwork cover letter

Check out this video for the 8 Golden Rules to Upwork Cover Letters that I put together – it'll help you drastically improve your Upwork proposals forever.
5 tips for unique Upwork cover letters

You should always be experimenting with new approaches. Five ways to come up with unique Upwork cover letter approaches include:

Focusing deeply on a client's Top 3 struggles
Incorporating your own industry knowledge
Giving your professional opinion on the client's existing work/setup
Doing original research on best practices in the client's industry
Giving a tentative project framework with a timeline & budget range, subject to discussion
How many Upwork connects to submit a cover letter?

Typically, submitting a proposal to an Upwork job will cost between 2 and 16 connects. You can find the most up-to-date information about connects in our article here.
What is Freelancer Plus?

Freelancer Plus is Upwork's premium membership, which gives freelancers 80 connects / month, a custom profile URL, the option to keep earnings private, maintain a public Upwork profile and see the bid range on Upwork jobs. Currently, Freelancer Plus costs $14.99 / month.
When Sending Proposals, Take Your Time And Write A Thoughtful Cover Letter.
Like I mention in the step-by-step walkthrough video above, once you've found a job that interests you, be sure to read the job posting carefully and make sure you understand the Upwork client's requirements before you submit a proposal.
It's important to tailor your Upwork proposal to each individual client, highlighting how your skills and experience make you the perfect fit for the job. Remember: clients can tell if you copy-pasted your proposal.
Don't Delay; Speed Is Critical.
If you're the first person to respond to an Upwork job posting, then the client might even still be online. You might get hired right then and there if you're a good fit. Try and check new job postings regularly, and get quick at applying to good jobs.
Upwork Beginner? Choose Hourly Instead Of Fixed-Price
The majority of Upwork contracts are either hourly or fixed-price engagements. Fixed-price contracts are an entirely different learning curve. I strongly suggest you avoid fixed-price jobs until you are extremely familiar with Upwork and the amount of work that will be required to perform a fixed-price job. You should also choose Payment Verified clients.
Accepting fixed-price contracts without knowing all of the rules, features, and risks associated with those jobs can be disastrous for beginner freelancers.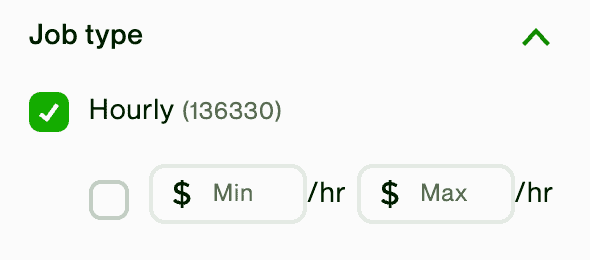 5. How To Apply For The Best Upwork Jobs
I'm going to show you how I analyze a job, and figure out whether I want to apply to it.
Job Level. It gives you an idea of what kind of budget they're looking to spend, and how important the job is to them. If you're first starting out, probably stick to Intermediate until you start to get more comfortable with Expert-level work
Deliverable Match. What's the deliverable, and does that fit with what I do?
Expectations. What are the client's time & price expectations?
Time Zone. I like to meet with my clients, both before and during a project – not everybody does but it's an important part of what I do, so is the time zone good? (Australia is always hard for me)
Payment Verified. Are they payment verified? If not, Upwork Hourly Protection does not apply! You should avoid unverified clients in the beginning
Client Feedback Score. What does the client's feedback score look like?
Feedback to Previous Freelancers. Important: what are they rating their previous freelancers?
Total Spend vs. My Rate. What's their total spend, vs. how much I charge? If my rate is $20K, and they've spent $1k total on an average rate of $5/hour, then I don't know if there's going to be a good fit
Total Spend. Total value of their previous jobs – that's really important too.
Specified Skills & Expertise. These are always wrong, so I always ignore that.
Price Range. Here's where I'm going to surprise you. I actually ignore this because in the client experience, clients get auto-suggested a rate range. Most clients don't know how much a project should cost, and choose the Upwork default range. So ignore it, and charge what you're going to charge.
Bid Range. Same as the Price Range: good to know, but charge what you're going to charge. Upwork's internal research suggests that most freelancers significantly underbid versus the final awarded contract value.
Number of Invites Sent. If the client sent like 20 invites, that means they're throwing darts all over, and it would likely not be very interesting to apply.
Number of Proposals. Best is less than 5, but realistically I'll still apply if there are 10 or fewer. If it's a super-awesome fit, then it doesn't matter, there could be over 100 applicants. If the job is less than a day old, I'm still applying because they're looking for the right FIT. Remember that ~69% of cover letters are copy-pasted.
Finding the best Upwork clients can be a challenge, but we have a much more involved course that gives you a step-by-step walkthrough covering every aspect of winning jobs and succeeding on Upwork.
6. Make Money On Upwork
Once you've identified the best Upwork jobs for you and sent out some awesome proposals like I showed you in the video above, soon enough you'll get a response from a client.
How do I make money on Upwork?

On Upwork Talent Marketplace, search for jobs that are the best fit for what you offer, and send a compelling cover letter. When a potential client responds, discuss the project specifications and agree a Scope of Work if it's a good fit. The client then offers you an Upwork contract. Once you accept, you can begin tracking time using the Upwork Desktop App (or work toward milestones, if it's a fixed-price contract).
How long does it take to make money freelancing on Upwork?

The average freelancer typically takes 6-12 weeks to win their first job. However, freelancers with highly-effective proposals and great work examples typically win their first job within their first 2-4 weeks on Upwork.
How long until Upwork payouts are available?

All hourly Upwork contracts are available 10 days after the weekly billing cycle closes, however Top Rated freelancers and agencies can withdraw funds from Upwork 5 days after the close of the billing cycle (Friday 5am UTC).
Discuss Client Requirements
Once a client responds to you regarding a potential Upwork job, set up a meeting to discuss their job requirements as soon as possible. Use Upwork's built-in calendar & Zoom integrations to set up the meeting.
Provide A Scope Of Work For Every Job
Before accepting a job from a potential client, always provide a Scope of Work including a range of your estimated total hours, estimated budget range, key steps you'll take and important information you'll need to get the job done. This ensures you & the client are on the same page, drastically reducing the possibility you'll receive negative feedback resulting from miscommunication. We have a freelance Scope of Work template you can use.
Track Hourly Time With Notes
Use the Upwork Desktop App's Time Tracker function to track the time spent working on your client's project and be sure to update your Time Tracker notes regularly. This will ensure you are eligible for Upwork Hourly Protection, which protects you from being unpaid for your work.
Communicate Like A Professional
You might want to bias a little bit toward overcommunicating in the beginning – a good rule of thumb is that a client should know what you did yesterday, what you're doing today and what you will do tomorrow.
Be Responsive & Proactive
No one wants to wait 2-3 days before receiving a response from the person they hired. Reply to messages promptly and follow up with clients regularly throughout the project.
7. Gather Client Reviews
Upwork reviews are client feedback which show up on your profile after you end a contract with a client. You get an average number of stars out of 5 based on a number of categories.
Freelancers are allowed to ask Upwork clients for a 5-star review after they've performed a legitimate Upwork contract. However, it is against Upwork's Terms of Service to have someone create a fake job with the purpose of obtaining positive feedback as a freelancer.
Why is Upwork Job Success Score important?

Freelancers' Upwork Job Success Score (JSS) is a weighted average of clients' private responses to the question, "How likely would you be to work with this freelancer again" on a scale from 1 to 10. A JSS is similar to a Net Promoter Score, and a consistently high JSS unlocks the Upwork status badges of Rising Star, Top Rated and Top Rated Plus which can help freelancers increase their prospects for getting hired.
Why are Upwork reviews important?

Upwork reviews are official client feedback, and can only be given once the freelancer has been hired by that client. Reviews, both positive and negative, can offer prospective clients insights into a freelancer's skills, work quality and communication habits. A series of 5-star reviews can have a substantially positive impact on a freelancer's ability to win work; a series of negative reviews can potentially stop a freelancer from obtaining any work at all.
Do Upwork clients avoid freelancers with bad reviews / low JSS?

Upwork clients may avoid freelancers with a very low JSS or poor feedback. The best clients may actually archive proposals from freelancers with poor reviews, in favor of others with a higher JSS or consistent 5-star reviews.
8. Establish Your Goal & Plan To Grow Your Freelance Earnings
My goal when I started on Upwork was to be the best in the world in my niche. So when I was doing my research, I found the #1 highest-earning person in the world in my space, and I said to myself,
"One day I'll do better than them."
That's not everyone's goal, but it was mine.
That day, they had $600,000 in earnings.
I had $0 earnings, $10.21 in my bank account, and a baby daughter and wife I had to take care of.
I had to make it work.
I followed a process, growing step by step – making my mistakes every step of the way but learning from them too.
To Learn More About That Process:
When I started approaching the $500,000 mark, I checked that person's earnings. They were now at almost $700,000.
I kept going. I kept making my own way.
Later that same year, one day I checked my Upwork profile to see where I was at.
I had just broken $1,000,000 in Upwork earnings.
I broke down in tears.
I remembered the struggle, the late nights taking calls potential West Coast clients at 1:00am, how I had eaten the cheapest €1.00 frozen pizzas every day for almost 6 months, the push to keep improving my work with every single project.
Then I checked that person's earnings. He was at $800,000.
I was definitively the highest-earning person in the world in my category.
The focus paid off.
Now I'm paying it forward, and sharing it with you.
I turned all of my learnings, all of my thousands of hours of struggle, all my hundreds of projects worth of hard lessons and near-failures, into a step-by-step guide that has helped hundreds of freelancers on their path to success.
No hard sell here – just check it out if you think it's for you.
If not, then think about your own goal: what motivates you, what kind of work would make you the happiest to do? What are you passionate about? Do you even want to go full-time freelance, or do you want to keep this as a side gig? If you don't know where you're going, you'll never get there.
---
This guide took me weeks to write, and a fair bit of courage to put it out there.
So if you found this useful, do me a favor: give me a like on this YouTube video. ❤️
This article originally appeared on freelancemvp.com, is copyright Freelance MVP LLC and is not authorized to appear anywhere else. If you have found this article anywhere else, it has been stolen.