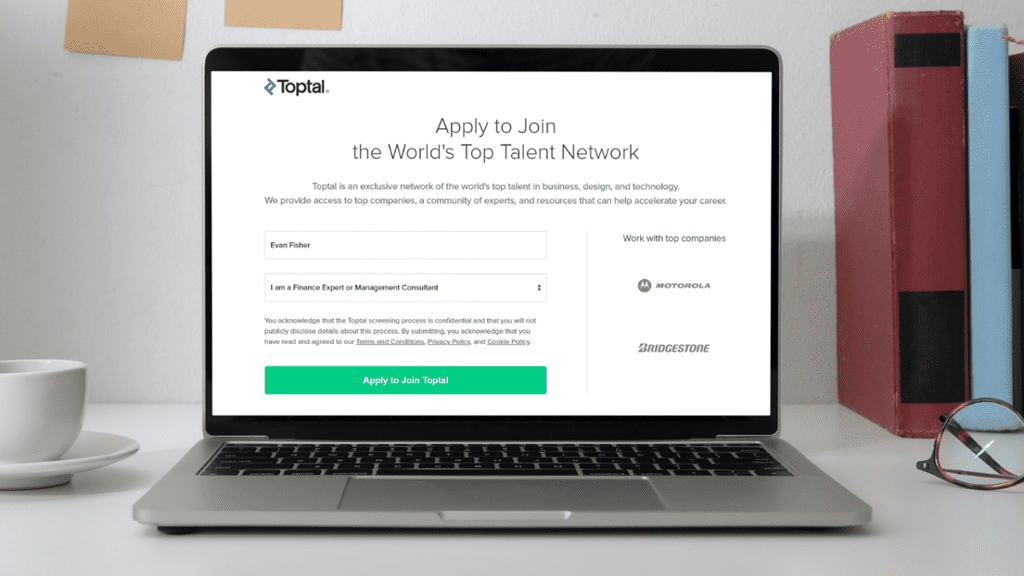 You know that feeling when you're about to take an important exam and your stomach starts doing backflips?
That's how I felt when I got the Toptal finance interview email — someone who had been working in an investment bank for over six years.
Am I qualified enough for Toptal?
Are they gonna throw insane valuation problems at me?
Do I actually belong in the 3%?
I get it — you're worried, you're anxious, and you really want to ace the interview. I was too – I was expecting the equivalent of "how many ping pong balls fit inside of a school bus?"
Now I'm on the other side of it, and I'm going to help you get through it too.
Here's the rundown:
The Toptal finance interview process includes an initial screening call, multiple choice test, case roleplay, live project, and final presentation. The 2- to 5-week process involves roughly 15-20 hours of unpaid work, and is generally straightforward for most experienced finance professionals. Successful completion allows you to join Toptal.
And the real deal:
The Toptal finance interview is a tough process. Only 3% of applicants get through. You need to bring your A-game and treat it like a high-stakes project for a big-time $$$ client.
If you fail, you can try again in a few months – but let's make sure you don't fail in the first place.
I'm going to give you everything there is to know about the Toptal Finance interview process (or at least, everything I'm allowed to share), answering all your questions and sharing some killer tips to help you navigate the finance screening process.
How should you prepare
How I passed the Toptal finance interview
The hardest parts
My advice for you
Brace yourself, finance warrior – we've got you covered.
Here's What We'll Cover
Toptal Finance Interview Timeline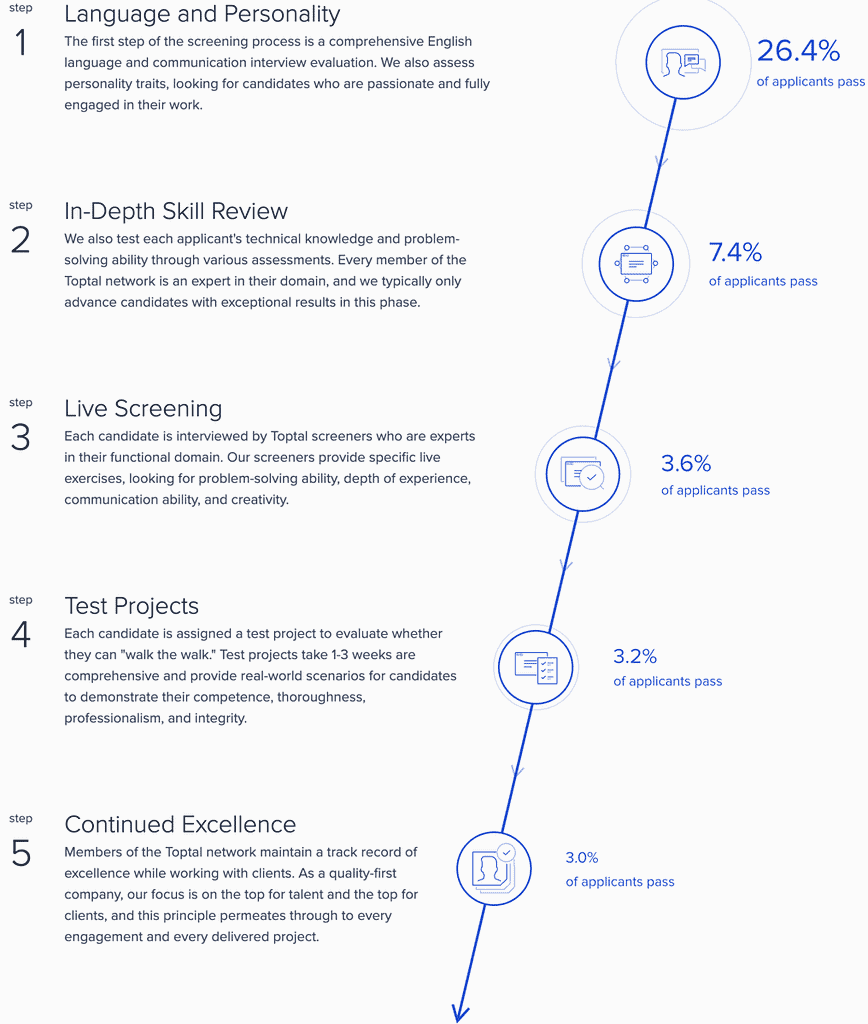 Overall, the full screening process can take 2-5 weeks to complete. It just depends on how fast you go.
Personally, when I applied, I needed the job, so I was pretty motivated to make it go quickly. I also figured it would be a good sign to the Toptal team, to show that I was extremely proactive and generally "on top of things."
I applied for Toptal on August 24th, and got the green light to join Toptal on September 5th. So all in all, it took me about two weeks to get through the entire process.
The Case Roleplay / Live Project took about one week for me but can take up to 3 weeks if you take your time.
Here's your Toptal finance interview roadmap, step by step:
Step 1 – Toptal Screening Call

The first thing Toptal does is to put you through a screening call.
I really overprepared for this. I was ready to show finance chops, talk about metrics, the works.
Really though, the screening call was not what I expected.
I'm fairly confident that the #1 thing they were testing in this call was…
Can this guy speak English?
It was a very basic call, something akin to "just chatting." Quite frankly, what they really want to check is if you can fluently communicate in English at a professional level.
Just be clear, concise, and confident, and you'll be fine.
I don't remember any discussion of "deep finance topics" on the screening call – it was more of a "can you run me through your CV" than anything else.
The screening call will be on Zoom or Google Meets (they used to do it on Skype). Mine was not on video, but still – look professional in case you do end up going on video.
Protip: Set up your Zoom in advance to avoid any hiccups during the call (yes, this does matter, and it makes a difference)

Here's some tips to get your Zoom looking great, but don't forget professional attire, clean background, no distractions, good lighting, clear microphone, no tech issues.

All of it matters.
You also need to provide your resume, so make sure you've already sorted it out before the call.
Surprisingly, only 26.4% of the applicants pass this step. So if you can speak English confidently and you haven't totally goofed on the qualitative side, you're on your way to the next step.
Step 2 – Complete The Online Multiple Choice Test

Once you pass the Initial Screening, now it's time for some multiple-choice.
You can't expect to land a gig without brushing up on your Dividend Discount Model formula, right? (I'm actually kidding – I'm pretty sure that wasn't on the test – actual topics below)
This step involves a skill review test to assess your basic finance knowledge and technical skills.
The test covers fundamental finance concepts. It should be a breeze if you've been in the finance sector for at least two years.
Rule of thumb: If you've taken a FINRA exam, you'll find this step is pretty easy.
Toptal's finance multiple-choice question topics can include:
EBITDA & Leverage Calculation
Balance Sheet & Cash Flow Statement Analysis
Financial Planning & Analysis (e.g., Implied Price Elasticity)
Precedent Transaction Analysis (M&A Comparables, Ratios & Enterprise Value)
Benchmarking & Valuation Analysis
Toptal will send you an Excel file and some sample questions to practice with. So you will have a good idea of what to expect in the actual test.
I remember it being heavier on the practical side than I thought it would be: questions had me calculating some ratios, multiples etc. using the Excel more than I thought I would.
I expected a lot of theoretical, and that just was not tested as much as I thought it would be.
Overall, the test is SUPER easy if you've been creating models for work or have a solid background in finance — not much to worry about here.

If it's that easy, why do only 7.4% of the applicants pass this stage?
Well, my theory is that there's a hidden test within the test — the 48-hour deadline.
I'd be willing to be that tons of people fail because it's not just about the skills – it's that they miss the email and forget to do the test within the 48-hour window.
There can be many reasons for that — they have other stuff going on, they don't take the deadline seriously, lose interest midway, or just realize that their skillset or experience doesn't align with Toptal's standards.
Protip: Take it seriously and complete it within the 48-hour window.
Step 3 – Toptal Case Interview Roleplay

This is where things get interesting.
If you pass the multiple choice test, you will receive a 2- to 3-page Case Context to review before the case interview roleplay with a Toptal rep.
Case roleplay or live screening (that's what Toptal calls it) is an example meeting where you sit down with a Toptal screener who is an expert in the finance domain.
It's exactly like an interview with a potential client — you study the case context, take notes, and present your solution during the call.
I was actually incredibly nervous for this.
At this point, it was clear to me that the first interview was just a general "English + professionalism check" – and the multiple choice gave Toptal a baseline that I knew at least a few things about finance.
I was expecting some serious things out of the Case Interview, especially since it would be one of Toptal's own finance consultants interviewing me.
What Is Toptal Testing In A Finance Interview Case Roleplay?
Your ability to analyze and interpret the case.
Your ability to identify & focus on the most important concepts.
Your ability to connect the dots & help the client achieve their desired results.
Your ability to ask the right questions and get answers to the blanks in the consulting engagement that have been intentionally left there.
Getting into the Nitty-Gritty: What Exactly Does the Case Context Involve?
Let me give you an example – the case context is a test project that may provide details on a hypothetical company and a specific financial hurdle they're facing.
Toptal Finance Interview Example
XYZ Corporation is a manufacturing company that specializes in producing high-quality electronic gadgets. However, they have been experiencing declining sales in the past year and are struggling to maintain profitability.
The case context may present you with a financial problem that XYZ Corporation is facing, such as identifying the root cause of the declining sales or developing a strategy to improve profitability.
You'll need to analyze the information presented and come up with a plan to solve the problem presented in the case.
The case context also comes with a spreadsheet that gives the company's income statement, balance sheets, and the overall financial summary of that hypothetical company.
In simple words: It's just any other sample case that a financial consultant would approach methodically.
Here's the deal, you have to approach this test project with maximum professionalism.
Protip: Assume the Case Interview is real.

Pretend it's a live interview with a potential client who's considering paying you a lot of money to solve a problem for their company.

Toptal wants to call you a Finance Expert, so don't hold back – demonstrate you're the expert they're looking for by doing your homework.

You better show up prepared, with good questions, prepared to lead the meeting.
Do your due diligence before you hop on the call, study the case context carefully, think outside the box, study the numbers, and try to figure out a solution that'll actually work if the hypothetical company were real.
Read between the lines.
When you get on the live screening call, take the time to listen to the interviewer's questions carefully and answer them thoughtfully and succinctly. Don't ramble or go off-topic – that will make you appear unprepared or unprofessional.
Be sure to answer the "exam questions." And yes, be ready to share your screen.
Protip: How to pass the Toptal finance case interview…

Assume the Case Interview goes something like this:

"We've sent a potential client your way – here's what we need you to do now:

Show them you understand their business…
Ask more about their situation, and then…
Talk about how you might tackle their problem, weaving in some of your relevant past experience.

Do that, and you've got the job"

…take that serious, because that's how you pass.
You cannot forget to highlight your relevant past work experience.
Remember, this "client" doesn't know you or your background, so you can't just show up tossing around recommendations. You have to link your experience with the case problem, and then showcase your problem-solving skills.
Example: if you read the case, and you think of XYZ strategy from a previous project you worked on at another company, mention it. Similar problem–>appropriate solution–>results–>how it can work for the case company.
You only have one hour to cover all this. Choose your work experience examples carefully, and use your time wisely!
Once you do, you're into the final round – you've made it to the 3.6%.
Step 4 – Toptal Finance Interview Live Project

Get past the Case Interview, and you'll receive a more detailed prompt of the case roleplay.
Here's what might be expected of you:
Analysis: Considering a potential merger or acquisition
Modeling: Creating a dynamic financial model (basic, not complex)
Valuation: Choosing appropriate assumptions & assembling valuation information
Analyzing financial statements: Growth, profitability metrics, balance sheet metrics, financial position, financial analysis, etc.
Present your findings: Building a presentation deck that includes your analysis, discussion, and the drivers of the decisions that you've made in your financial model
Recommendations: What actions would you suggest your client take?
Follow-up items & Next steps: Potential next steps and items to explore further.
In my case, I received a 5-page document with further case context, discussion, and an Excel file with baseline financials for building a model.
I was expected to use what I received, to produce two main deliverables for case materials:
Three-statement Excel financial model with projections, through to a valuation waterfall.
PowerPoint/Google Slides/Keynote deck with information and conclusions supporting the specific case that I was given.
Toptal says you should anticipate dedicating around 15 to 20 hours of work to build your case materials.
I really wanted the job, so I probably overdid it. I think I spent ~30 hours working on my package, just so I could be absolutely certain it wouldn't hold me back.
Super IMPORTANT: Act as if you are being paid $10,000 to produce this package. If you do well, then soon enough you might actually be charging that.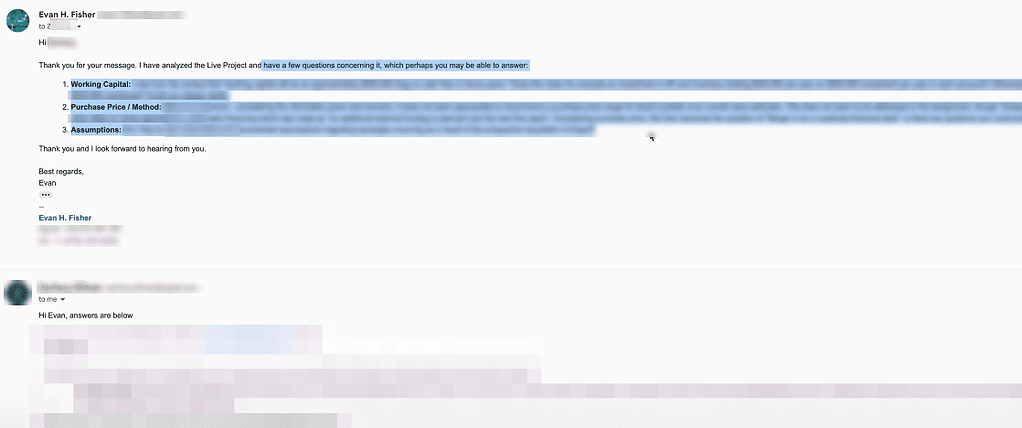 You can ask questions about the case: I asked my Toptal rep a couple of questions and got answers that clarified my modeling assumptions, which was great because his answers actually limited the scope of what I was going to create.
If there's anything you're not 100% clear on, I encourage you to ask questions too; if you make assumptions without asking questions, it will probably backfire in the final presentation.
Moreover, when you ask questions, you come across as a professional who is dedicated to the project at hand — and that's exactly what you want to portray.
Toptal. Finance. Expert.
For me, the financial modeling & deck were not super-intensive, I wanted to make sure it was clean & client-ready. I just took it seriously, and assumed I was producing a final version, not a V1.
I kept telling myself: "This is for a client. They are paying you a lot of money for this."
Toptal Financial Model Tips
"Dynamic model" means dynamic. If you hard-code anything outside of assumptions, it will be found and you should expect to fail.
Don't forget ratios. Include KPIs & ratios in your model
Make reasonable assumptions. Research & incorporate your own assumptions
Ensure they're defensible. Be prepared to defend your choices.
Annotate sources. Include your sources / thought process as comments.
Careful with comps. Choose your M&A comparables carefully.
Toptal Finance Case Study Deck Tips
Clean it up. Act as if you're delivering this to a client.
Use an Office template. You're not a designer. Stick with what's safe.
Check your spelling. Misspelled words are out of the question.
Check your figures. There's no room for wrong numbers.
Graphs help. Keep it simple and clear.
I can't show you my work, but here's what I included in my Deck Outline:
Executive Summary
Review of Key Performance Indicators
Pre- and Post- KPI comparison
Current Valuation
Valuation Growth
Potential Acquisition Overview
Valuation & Transaction Alternatives
Synergy Analysis
Recommendations
Next Steps
Exhibits
Merged Proforma
Comparables
Step 5 – Toptal Finance Interview Final Presentation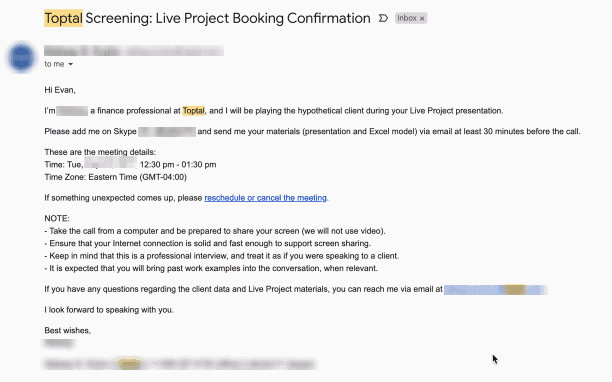 Once you finish your case material deliverables, you book a call for your presentation and submit the work to your Toptal rep before the call.
The presentation is a one-hour call to present your outputs and next steps to the mock client. It's just like any other case study process where you present your findings and discuss the next steps & your recommendations moving forward.
I'll be honest — I was pretty nervous before I hit "Send."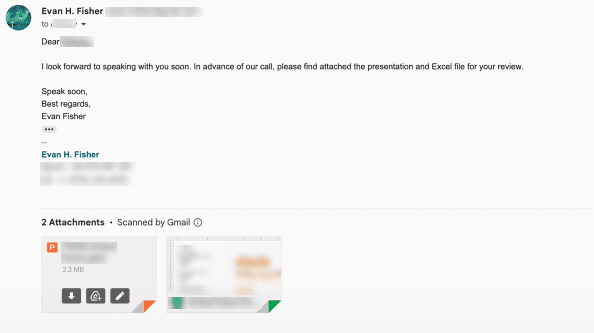 I did the thing where you attach the file, then open it up again and look through every single page trying to spot errors…
…over and over again.
Because every time, I found errors. You should probably check your work at least 10 times before sending.
But once I was satisfied, I was pretty confident that my deliverables were top-notch, and I sent it.
When I hopped on the call I had booked for the final discussion, I was really prepared – I had everything at the top of my head, had reviewed my deliverables back-to-front over and over just so I knew it inside & out.
I'm pretty sure that the final call was pretty short – less than the allotted time. We discussed the analysis, the key outcomes, what I'd recommend and why, and what we might want to do next as a result – basically the outline of my deck.
If you've put in the time and effort into your context materials and asked all the right questions, this presentation will be child's play for you.
I guess it went well for me, because within one hour after the call, Toptal sent me the onboarding materials.
You're In: Onboarding With Toptal As A Finance Expert

When I got the "acceptance letter," I was jumping for joy. I was going to go book up some work immediately.
…little did I know!
Finishing up the presentation and getting the onboarding email doesn't mean you can start accepting job offers right away.
Toptal's onboarding process is actually pretty extensive – it includes tagging your profile, filling in your profile details, and preparing it in a way that Toptal tells you that they want it.
It took me roughly three days to collect all my information, read & process onboarding materials, pull together case studies, anonymize some work to showcase, reformat my profile and get the green light to start working on Toptal.
But doing the legwork is actually really important, because that's how Toptal reps will use your profile to sell your services to clients and send you high-priced consulting work.
How To Prepare For A Toptal Finance Interview?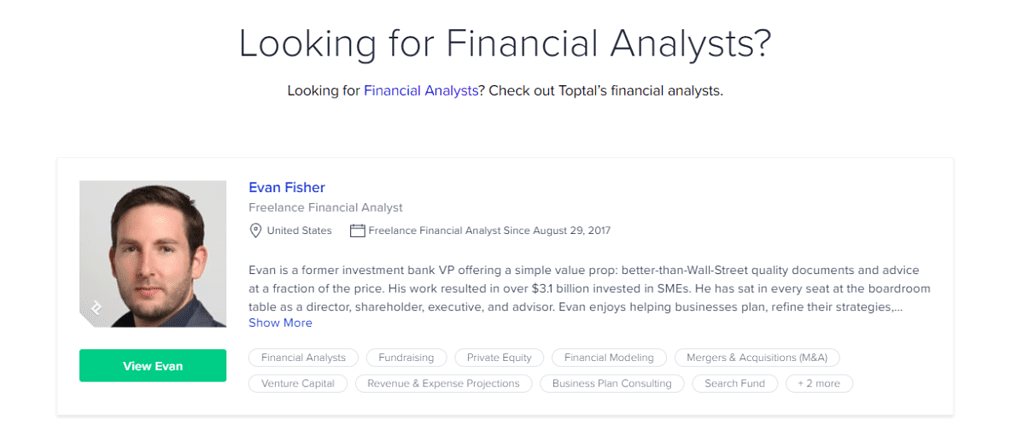 You don't have to do anything to prepare for the initial Toptal finance interview.
If you're experienced enough to take point on a client project, build a clean financial model and develop a deck covering your findings & key points, then you probably have what it takes to pass Toptal's finance interview.
You either have the skills to be able to pass the Toptal finance interview or you don't.
However, there is a list of interview questions from Toptal's website that can be a valuable resource to help you prepare or at least know what to expect:
You can find more interview questions for a variety of finance roles here.
Note: These interview questions are for companies and hiring managers who are looking to hire a finance expert on Toptal. You'll get finance interview practice questions before you take Toptal's finance interview Multiple Choice Test.
Here are a few things to keep in mind before getting on the Toptal finance interview bandwagon:
You should be pretty comfortable producing a financial model.
You must be able to communicate professionally (more important than you think).
Be ready to defend your analysis & assumptions.
You need to be able to develop a basic deck with thorough analysis.
Be ready to talk through senior-level implications and next steps with a client CEO on a call.
How To Pass Toptal Finance Interview?

I was extremely nervous coming into the Toptal finance interview. I knew I had the skills; I just didn't know what they were expecting.
At the time, I only had $10.21 in my pocket, so I needed to make it work. I mean, I was laser-focused on nailing it.
I kind of went all out and put my heart and soul into it.
I dove into the details, analyzing every possible scenario and outcome. My goal was to create detailed context material showcasing my skills & knowledge and highlighting my passion for finance (and Toptal, of course).
You know what? It was work. It was unpaid. And it took a fair amount of time.
…but I sailed through the Toptal screening process.
In order to excel in the Toptal finance interview, you need to have a solid grasp of financial analysis & modeling. You can't just wing it and hope for the best.
You just have to do things that are normally expected of a financial consultant. Assuming you're good at what you do, you shouldn't really have a problem getting through the interview process.
Here are a few tips to ace your Toptal finance interview:
Ask good questions
Be prepared to lead the conversation
Brush up on your financial modeling skills
Practice your communication skills and be able to explain complex financial concepts
Gather relevant past experience/examples
Follow the instructions to the letter
How Hard Is Toptal Finance Interview?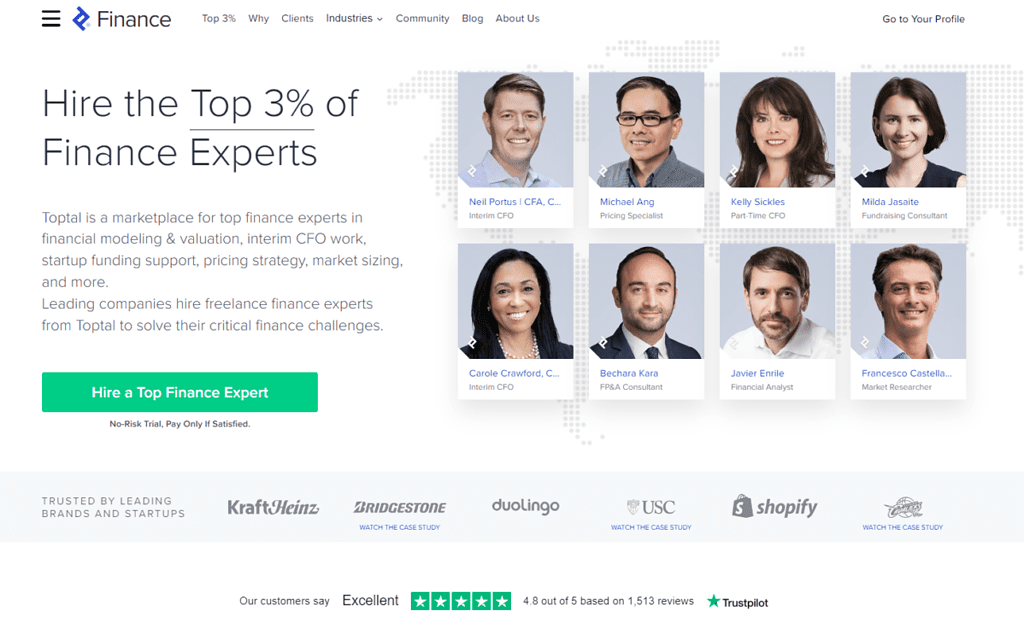 At the point that I went through the Toptal finance interview process, I had been working in an investment bank for just over six years.
Honestly, I had no issue whatsoever in understanding what was needed.
Probably overdid it — but I had no problems getting accepted in just two weeks.
This doesn't mean the screening process is easy.
Most people fail because they:
Didn't put enough work into the case study.
Didn't give senior-level recommendations on the case study.
Lacked the fundamental technical skills to be able to wrap together a comprehensive analysis.
Don't make the mistake of taking this lightly because Toptal means business.
They're not afraid to show people the door if they're not up to snuff.
Believe it or not, about 15% of people fail the live screening and test projects.
But also remember that some of the highest freelance consulting rates are waiting for you on the other side.
What Happens If You Fail In Toptal Finance Interview?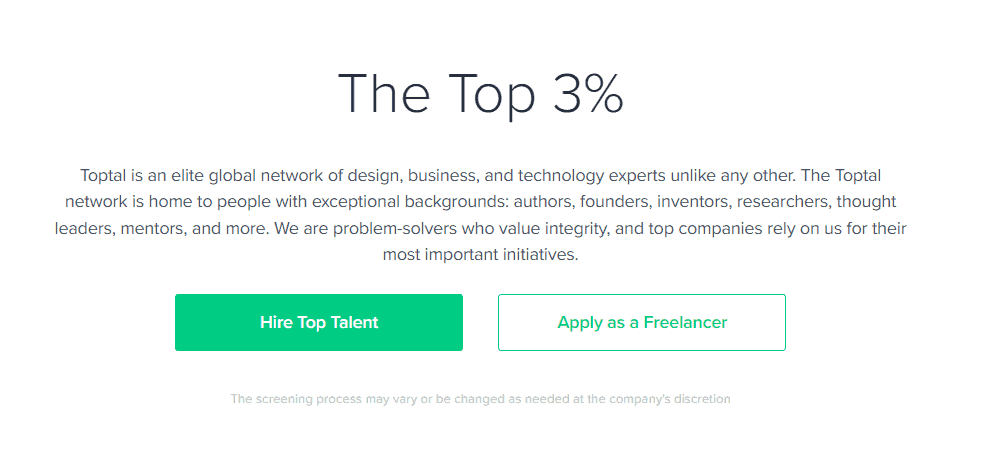 If for some reason you fail, no worries- you can try again in a few months.
Even the most experienced professionals can stumble during the screening process.
Take the feedback you receive from your interviewers and test projects as a learning opportunity. Then get back on the horse.
Final Thoughts
The Toptal finance interview may be rigorous, but passing it means you have what it takes to work with some of the top financial institutions and firms in the world.
There's no rocket science here, no courses or mock tests you can attempt to be successful.
Just one simple mantra — buckle up and bring your A-game.
Treat it like a $10k project and give it your all, and you'll be a Toptal Finance pro in no time.
I can tell you from experience- getting into Toptal is pretty worth it.
Not sure if Toptal is for you? Be sure to check out our Upwork course, where we reveal all the PROVEN tips to help you land your first freelance finance job.
This article originally appeared on freelancemvp.com, is copyright Freelance MVP LLC and is not authorized to appear anywhere else. If you have found this article anywhere else, it has been stolen.