Table of Contents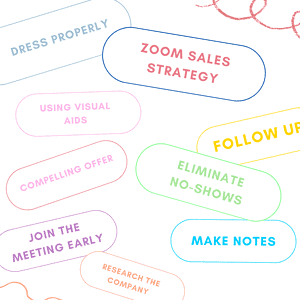 If you're not doing Zoom calls for virtual sales, you're not making enough, and you might be leaving thousands or even tens of thousands on the table every month.
And honestly, Zoom calls are not rocket science.
It's like the modern-day equivalent of a face-to-face meeting, except you don't have to worry about accidentally spilling coffee on your client's lap.
Here's the low-down of how to sell on Zoom:
Research the company in advance, dress appropriately and come prepared with questions. Engage attendees with visual aids, use Zoom apps to improve productivity, and take notes. Close with clear next steps, then follow up afterward. Don't forget about audio quality—be in a quiet place, invest in a quality microphone, and use noise-cancellation apps. For better video, choose a good angle, maintain eye contact, and opt for an appropriate background.
Have no fear because today we're going to make you into a Zoom sales pro even if you're an introvert, camera-shy, or a total beginner.
I'm going to answer your biggest questions about Zoom meetings:
Should I do Zoom sales calls, or avoid them entirely?
What's better for selling on Zoom – voice-only or video?
Do I need special equipment to be a pro on Zoom and win clients?
We're going to go beyond the settings you should use – we'll talk Zoom SALES strategy too.
So let's get cracking and make your Zoom sales call a roaring success!
Seal the Deal: Mastering Your Zoom Sales Strategy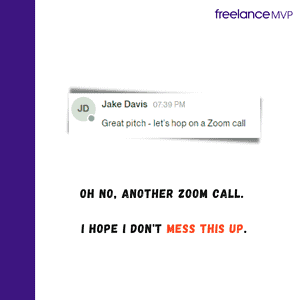 For a long time, I was that Zoomophobe, and it was because I felt like I was terrible at sales.
Super-awkward & clunky — felt like I was wasting my time.
Here's a rapid-fire list of what I was dealing with:
50-60% no-shows
Late joins
Back-to-back 45-minute time-waster calls
Potential clients rambling on for 25 minutes
Low close rate
If you don't do Zoom calls and are trying to get clients to work with you through messages only, you'll be sending tons of messages.
It would take forever, clients wouldn't trust you, they wouldn't buy from you and it'd only get harder as you try to raise your rate.
My Zoom sales strategy will help you become much more confident, cut down the ghosters by 90% and raise your rates by 300% — I'm not even kidding.
The best part? You don't need any special equipment to sell on Zoom. Just a solid sales strategy, clear audio, and high-quality video.
Here's how to sell on Zoom:
1. A Great Meeting Starts Before You Even Open Zoom
Don't just jump into a Zoom sales call willy-nilly and try to wing it. You can't expect to close a $10,000 deal by NOT having a solid game plan.
Start by creating an agenda so everyone knows what to expect. It's a roadmap for your meeting, so everyone knows what to expect and you can stay on track.
Research the company in advance, and have your questions ready. Dive deep into why the client should hire you, how you can help them make more money, and how you can sustain the work relationship.
If the client feels like you are not prepared for the conversation, they will NOT give you their money, period.
2. Don't Let Updates Derail You — Join The Meeting Early
Sign on 5 minutes early.
Sometimes Zoom really messes you up with required updates. You do NOT want to be late. Make sure your Zoom app is up to date to avoid any hiccups during the call.
3. Research The Company In Advance — Have Your Questions Ready
Do your homework and learn as much as you can about the company you're meeting with. This helps you to personalize the meeting and show that you're genuinely interested in helping them out.
Interestingly, it's really not that hard to gather solid information on a company.
Here are a few ideas to consider:
Visit the company website and dissect the "About Us" page.
Look into the company's LinkedIn profile to learn about the company's work culture.
Search for recent news articles on Google News about the company to learn about any major changes or developments.
Check out the company's social media accounts to see what they're posting about.
Explore online reviews from customers or clients to learn about their experiences with the company/client. On Upwork, check out the client's profile and take a look at the feedback left by other freelancers.
If possible, try to get referrals from mutual connections who may have worked with the company or person before.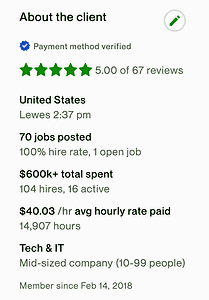 4. Come Prepared To Lead The Call To The Result You Want
The devil is in the details, so be prepared to lead the conversation toward the result you want. Use visual aids to bring your ideas to life and engage your attendees.
Use your client's pain points to steer the conversation in your way and offer a personalized solution.
Before hopping on the call, take some time to brainstorm a list of qualifying questions that will help you understand the client's needs and pain points.
These will keep you focused like a laser beam during the call and prevent you from going on a wild goose chase.
5. Send Info In Advance That Answers Most FAQs
Even a simple video walkthrough can be an incredibly effective way to answer the most common questions.
In a video walkthrough, you'll want to cover:
Who you are
Who you help
Some of the other clients you've worked with (ideally, that are similar to the person you're meeting)
How your process works
What the potential client can expect to cover in a call with you
Anything they should bring to the call
6. Use Meeting Notifications To Eliminate No-Shows
The most frustrating thing is showing up to a meeting and the client never shows.
Even if you're doing work in the meantime, it's a waste of your time because do you want to work with clients that don't respect you enough to show up on time?
I use a disgusting number of meeting reminders before a Zoom.
Before a meeting with me, clients get emails, text messages and even alerts on their phones.
I've had a couple of potential clients tell me, "I've never been bombarded with so many meeting reminders for any other meeting, EVER."
Yeah, well, you showed up for the call, didn't you?
Never, EVER feel bad about having multiple reminders.
7. Dress Properly
Now, let's talk about attire. Just because you're working from home doesn't mean you can't dress to impress.
Think of it this way: if you were meeting the client in person, would you show up in your sleepwear? Definitely not.
Wearing a nice collared shirt is a lot better than a hoodie with an anime character on it — unless you're a cartoon artist.
Putting in the effort to dress professionally can help set the tone for a productive Zoom sales meeting.
8. Always Set A Hard Stop For Your Meetings
If you're not familiar with a hard stop, that means you are getting off the call at a certain time.
Don't break your hard stop – just get the job done in that period of time, and if your potential client is going off track, say this: "Hey, I don't mean to interrupt, but just a heads up, I have that hard stop coming up in X minutes, but please go ahead"
9. Make A Compelling Offer
Make an offer they can't refuse — become the Al Pacino of Zoom sales calls.
Be persuasive and highlight the benefits of your offer to increase the chances of closing the deal. Talk more about the benefits of your service or product rather than blabbing about its features.
For example, if you're hosting a sales meeting to close a web development client, make sure you highlight how you can help the client improve their website's user experience, increase website traffic and conversions, and ultimately grow their business.
10. Use Visual Aids Effectively
Do you ever read blocks of text on a slide? I didn't think so.
If you don't want your client to nod off like a sleepy sloth on camera, make sure to do this:
Avoid using too much text on your Zoom sales presentation, and use images or icons to help convey your message.
Use a more casual, laid-back tone. Try to add appropriate humor and a personal touch to your presentation.
Use visual aids like slides, graphics, or videos to make the presentation more engaging.
11. Use Zoom Apps
There are tons of awesome Zoom apps to make sales calls a walk in the park.
Here are a few:
12. Ask Discussion Questions In The Meeting
During the meeting, get the ball rolling by asking discussion questions and encouraging participation. The more you engage the other person, the better you understand their needs.
Here are a few questions you can ask:
Can you give me a quick, 60-second rundown on the problem you're facing?
How long have you been struggling with this?
How is it stopping you from growing your business?
How much money / sales are on the line, that tell you you have to get this done RIGHT?
What would make you think: 'this project was a success'?
Of course, these questions are a great starting point but don't be afraid to personalize them based on the conversation with your potential client.
Each person and business is unique, so it's important to adapt your approach to fit their specific needs and interests.
13. Take Notes
Jot down important points to refer back to later and follow up on action items.
This can include:
Client's problems
What they have already done to solve the problems
What results are the would expect from you
Action items and tasks
Objections to address in future meetings
Private notes on how to solve a specific problem, revisit a specific point in the meeting, etc.
Sometimes a client wants to have multiple meetings before closing the deal. Taking notes will help you synergize all the meetings.
Protip: Auto-record your meetings

Auto-record your Zoom meetings, so you can refer back to everything that was discussed with your client. Certain Zoom plans also have integrated transcription, so you also end up with a searchable auto-generated transcript.
14. Close With The Next Steps
I used to hit the "End Call" button without giving any information on what comes next.
It was like a movie but with no end-credits scene. 55% of the clients didn't even bother getting back to me.
Here's what I learned:
Don't just end the meeting with a "thanks for your time, bye!" and a wave. Instead, make sure to close with the next steps. Have a short Q&A session at the end of the Zoom sales call to see what the client is expecting next.
Tell the client exactly what steps need to be followed to proceed with this deal. This can include sharing more information or scheduling a follow-up call.
Make sure the client feels comfortable to speak their mind and ask any burning questions they may have before moving forward.
15. Always Follow Up
Alright, you've made it to the end of your Zoom sales pitch, and you've wowed your client with your impressive knowledge of the product, your charming smile, and your ability to mute and unmute at lightning speed. But now what?
After the meeting, make sure to follow up with the client.
Send a thank-you email or a follow-up email if the client hasn't responded for some time. You can also ask if there are any objections regarding the project scope or budget.
This shows that you're serious about the sale and that you value their time and business.
Don't Let Bad Audio Sell You Out: Tricks For Great Sound On Zoom Calls
Back in the day, my microphone was built into my computer and it was pretty bad. My laptop would overheat and you'd literally hear the fan running within 2 minutes.
One time, I was on a Zoom call with a client and they suddenly asked me, "What's that noise? Is someone vacuuming in the background?"
Here are a few tips to spare yourself the embarrassment of having to explain that no, you're not cleaning your house during a sales call:
Be in a Quiet Place
Don't use your living room to make Zoom sales calls — that's like the most crowded place in your home.
Find a quiet place in your home, maybe a spare bedroom or a finished attic/basement, for your sales calls.
Use Noise Cancellation
Background noise is super-annoying. If you just can't be in a quiet place, there are three things you need to do:
Zoom Noise Suppression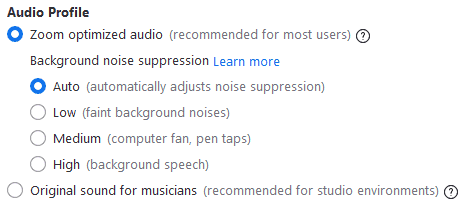 Test your noise reduction by recording a meeting and listening to the quality.
Use Krisp

Krisp is a third-party background noise-canceling software that works with all headphones.
Try Nvidia Broadcast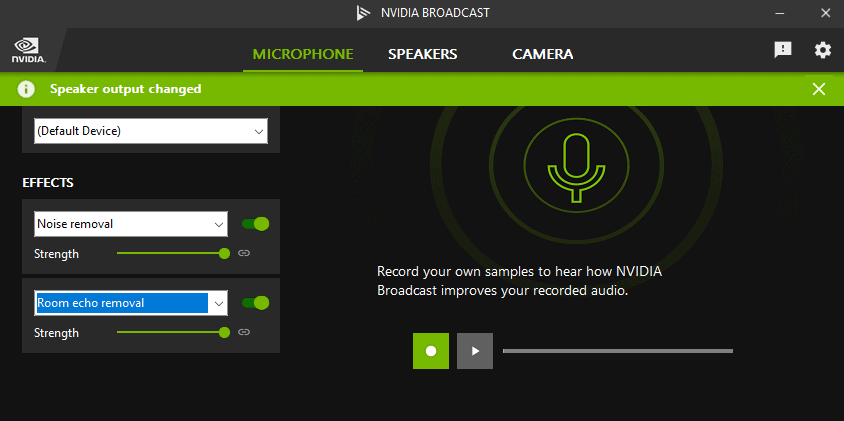 If you own an Nvidia GPU, you can use Nvidia Broadcast to remove background noise and room echo for nice and crisp audio.
Invest In A Quality Microphone
If noise cancellation apps don't make a difference, it's finally time to invest in a quality microphone.
Don't go overboard and buy a $1000 microphone to close your first client — you should upgrade over time. [don't worry, we'll fix this intralink soon]
Know The Zoom Mute Shortcut
Mute is your BEST FRIEND: but you have to have your hotkeys set up, so enable global shortcuts.
Even if your client is asking you a question while you're looking at their website on mute, you're not desperately trying to switch back to Zoom to unmute – you just use your shortcut to unmute, answer their question and go back on mute.
Lights, Camera, Sales: Boost Your Sales with these Zoom Video Tricks
For years, I did all of my sales calls with audio-only – NO VIDEO.
But as I was trying to raise my prices, my close rate started to suffer – really badly.
I asked a friend of mine who was charging a similar price, "Hey, what's your close rate" and it was like triple mine.
…and he was like, dude, why are you only doing voice calls?
"If I'm gonna be paying someone over $10,000, then I expect to see their face!"
Moreover, the State of Virtual Selling Report found that using videos instead of text-based emails is the way to go! And it's no surprise that over 70% of respondents agree, citing increased response rates.
Get ready to up your video game with these sweet tips:
Have A Good Background Or Use Zoom's Background Filter
Choose a good spot. Everyone hates that guy who sits in front of the window. We cannot see you! Cover the window with curtains already.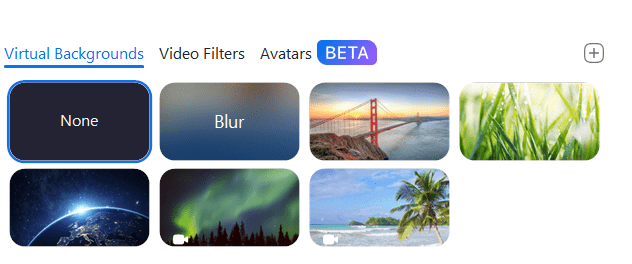 Also, instead of showing your messy bedroom, choose a background that screams, "I'm a professional!"
Maybe a sleek office or a cityscape will do the trick.
Just be sure it doesn't make you look like you're part of a cheesy infomercial.
You can also use Zoom's built-in virtual backgrounds and video filters to hide your dirty laundry in the background.
Look Them In The Eyes
You don't want the client to see your nostrils, right?
Elevating your laptop can do wonders for your posture and overall Zoom presence.
If you don't have a fancy laptop stand, just grab a stack of books from your bookshelf, a stool, or anything sturdy lying around and voila! You've got a makeshift stand.
The takeaway — the webcam should be at eye level or a bit higher.
Additionally, get a decent face light. You're not the dark knight — your client wants to see you.
Maintain Eye Contact Or Use Nvidia Broadcast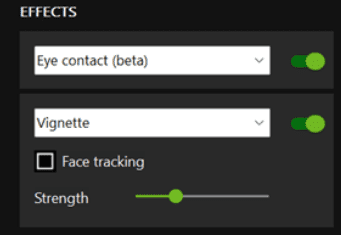 Maintaining eye contact during Zoom makes you look more confident and helps in building a connection with your client.
However, maintaining eye contact can be challenging during a video call since you have to stare at the camera instead of looking at the screen.
But what if you can look at the screen and make notes — all while maintaining eye contact? You can do that, but you need an Nvidia GPU for that.
Open Nvidia Broadcast
Navigate to the "Video" section
Click on "Effects"
Select the "Eye Contact" effect.
Selling On Zoom Is Not Rocket Science
Selling on Zoom requires preparation, strategy, and attention to detail. If you come prepared with a strong Zoom sales strategy, no one can stop you from making extra $$$.
Always be willing to adapt and adjust your approach based on your client's needs and preferences.
Moreover, your prime focus should be on the benefits of your services — it's all about what's in it for the client, not about tooting your own horn.
While you're at it, make sure you're sounding and looking like a million bucks. No one's going to throw their hard-earned cash at you if they can't even hear or see you, right?
Still having a hard time closing your dream client on Zoom? You might want to check out our Upwork course, where we cover how to create a rock-solid sales strategy for Zoom calls.
This article originally appeared on freelancemvp.com, is copyright Freelance MVP LLC and is not authorized to appear anywhere else. If you have found this article anywhere else, it has been stolen.