Table of Contents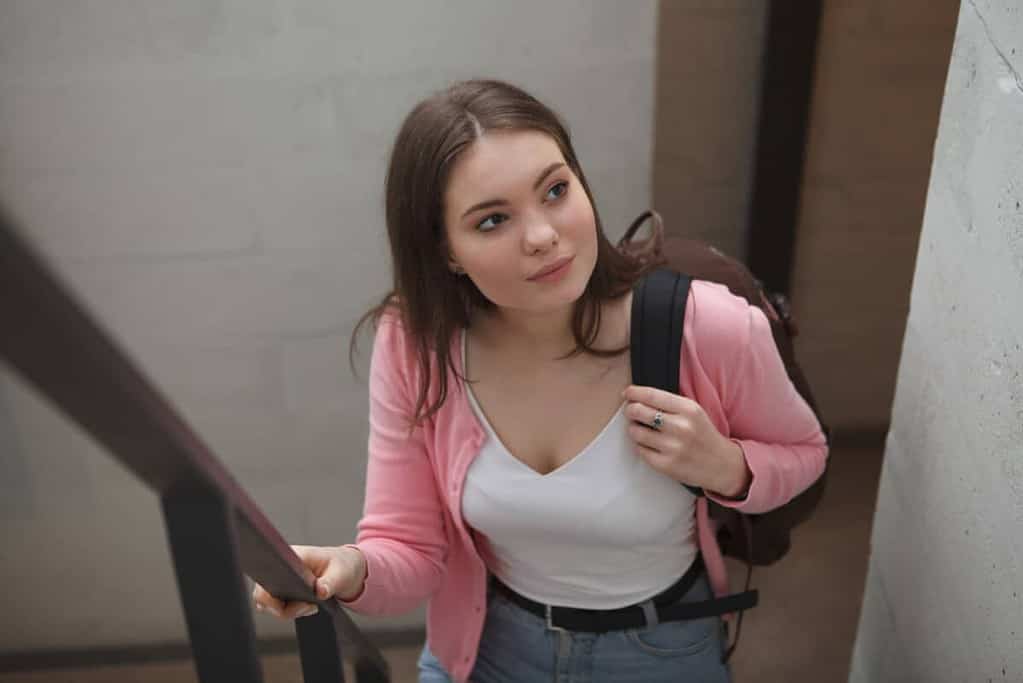 I've worked as an employee and have freelanced on Upwork, Fiverr and Toptal for over 5 years, starting as an individual freelancer and graduating into the owner of multiple businesses. The sharing economy landscape has developed tremendously and continues to accelerate as more join and freelance vs. regular jobs.
But how big is it really, and is it for you?
The freelance economy is growing
The freelance economy is expanding 3x faster than the total US workforce, and has grown tremendously in recent years with over $204 billion in gross transaction volume worldwide. Freelancing is at an all-time high, with 60 million Americans (39% of the US workforce) having freelanced in the past year and over 50% of the US workforce projected to participate in the gig economy by 2027.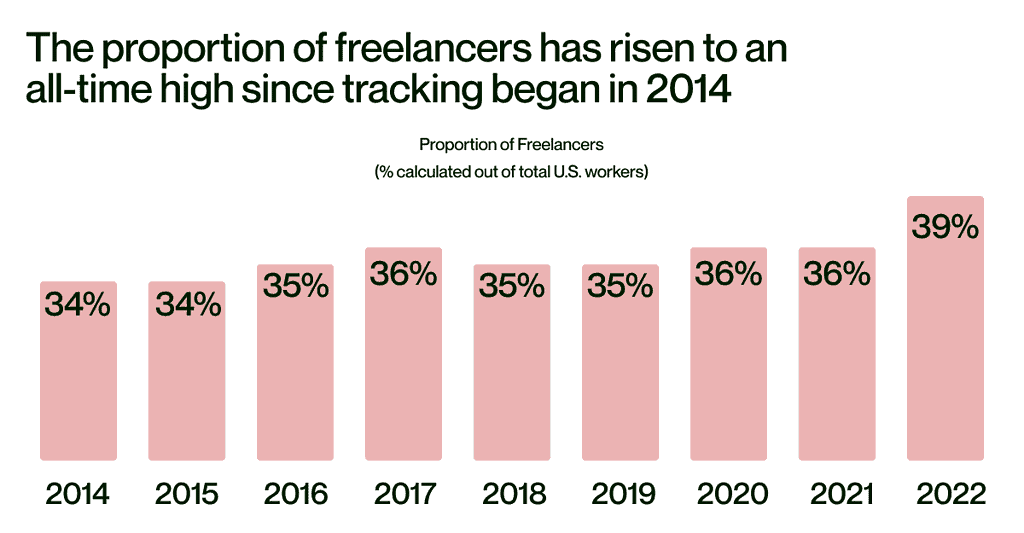 43% of Gen Z and 46% of Millennial professionals are participating in the gig economy, indicating that younger generations are embracing freelance as a viable career option when compared with roughly 35% of Gen X'ers and 27% of Boomers freelancing, respectively.
Is it better to freelance vs. regular jobs?
Freelance has become a more viable work arrangement, particularly given the likelihood of earning more money than in a traditional 9-to-5 job. Upwork's Freelance Forward 2022 study reported that 57% of freelancers were satisfied with their freelance earnings, and 81% of freelancers say that more people are exploring freelancing as an alternative to a traditional career.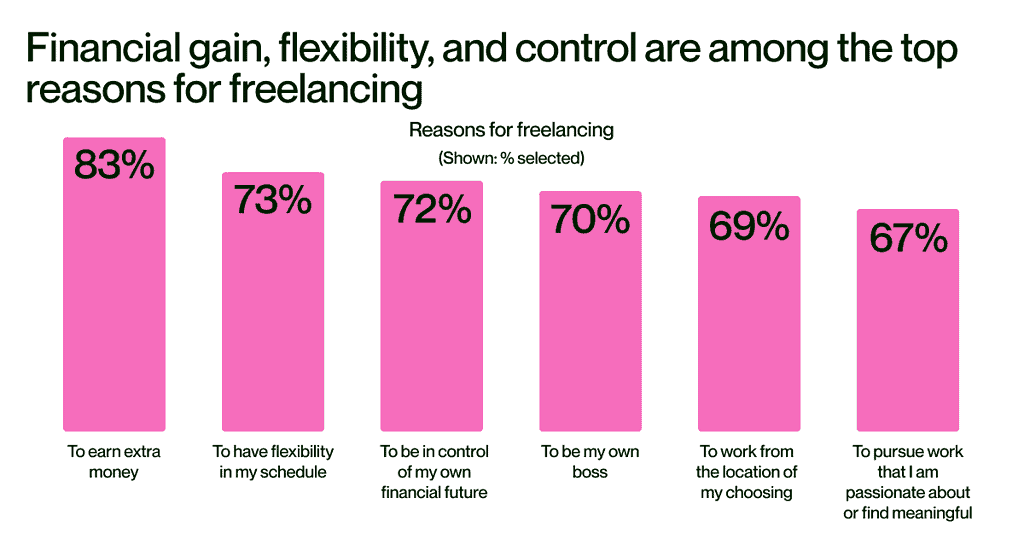 While there are several draws to freelance work, including earning extra money, schedule flexibility and control over one's financial future, there are also a number of disadvantages that come with leaving behind a 9-to-5 job.
Disadvantages of freelance work
1. No full-time benefits.
Freelancing lacks many of the perquisite benefits offered by traditional jobs, including health insurance, dental insurance, retirement plans (e.g. 401K), and paid time off. While an employer is required to withhold employment taxes, freelancers must manage their own taxes.
2. No job security.
Freelancers don't have the job security that comes with a 9-to-5 job. Traditional W-2 employment gives the continuity of earnings that comes with a consistent job, while freelancers typically must continue to source their own work on a regular basis – and as a contractor, a freelancer can be fired at a moment's notice.
3. No income consistency.
In general, freelancers lack the consistent income that would come with salaried work. 9-to-5 jobs might limit an individual's earnings potential, but in most cases, employment offers consistent monthly income. Freelancers typically need to keep a closer eye on their monthly earnings than salaried employees.
4. Inconsistent workloads.
In many instances, freelancers experience stronger fluctuations in workload than salaried employees. Freelancers need to be more flexible to complete off-hours work in busy periods, and sometimes find other productive activities not involving client work during times of lower workload.
5. Loneliness & isolation.
Since most freelance work is performed remotely and solo, feelings of loneliness and isolation are more common among freelancers than among 9-to-5 employees. Staying motivated can be tougher in remote work, and many successful freelancers suggest taking an active approach toward managing mental wellness for full-time freelancers.
6. Lots more responsibility.
While employers typically specify the expectations of a job role, freelancers have a much broader job description that can be overwhelming for some. The business functions that might be handled by another department in a business such as sales, marketing, client satisfaction, IT, HR, accounting, legal, operations and administrative tasks all fall on the shoulders of a full-time freelancer.
---
Why freelance jobs are better than 9-5 jobs
Full-time freelancing can offer unique benefits that outweigh the advantages of a full-time job (health insurance, consistent workload and income consistency). Upwork's Freelance Forward 2022 survey indicated that 77% of freelancers were satisfied with their job overall, versus 70% of non-freelancers, and 75% of freelancers enjoyed the freedom to do work that suits them versus 61% of non-freelancers.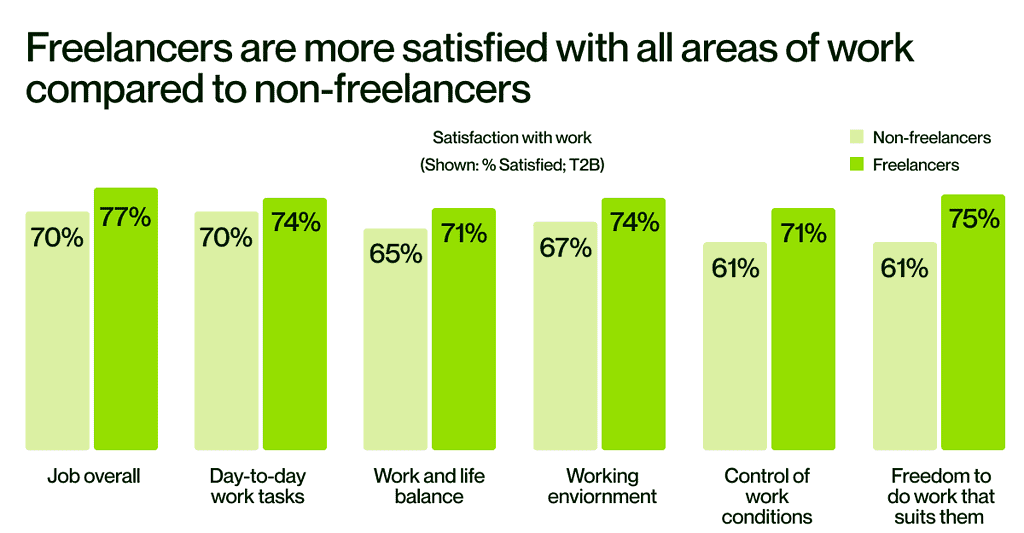 The advantages of freelance work over traditional employment include financial gain, work-life balance, overall satisfaction and more:
1. Much greater control over income.
Full-time freelancers often enjoy significantly higher earnings potential than a full-time job: In my first year freelancing, I earned more than double my annual salary of my most recent job as an employee. What's even better: when I was an employee, I'd frequently get emails late in the evenings & have to work outside business hours or on weekends. In freelance, you can charge for that time – especially if you're hourly!
Working on a freelance basis, clients pay a premium for the ability to hire highly skilled talent at-will for a project, particularly when there is a specific or hard-to-find skillset that they might not necessarily need on a full-time basis. This is evidenced in Upwork's Freelance Forward 2022 Survey, where 77% of freelancers indicated they were optimistic about personal income / salary increases in 2023.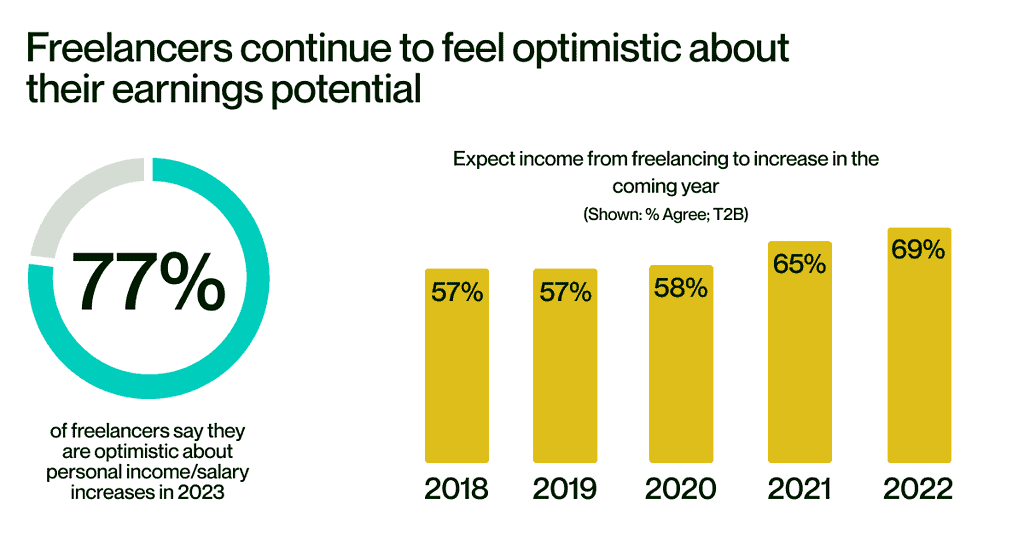 On average, freelancers can adjust their hourly or project-based rates far more readily than a full-time employee. Some freelancers charge more when they're busy, and others review their rates once a month before taking on new clients. Such regular income adjustments would likely be impossible in a full-time employment relationship, where salary reviews typically occur annually, or at best, quarterly.
In my freelancing journey, I always proactively approached increasing my earnings capacity at every chance possible: forward momentum only. The price only goes up, and it goes up regularly, so Mr. / Mrs. Client, you might want to move fast before the price goes up again.
2. More freedom to choose work you enjoy.
Typically, freelancers have far more freedom to choose what they work on than most 9-to-5 employees. Independent contractors can determine their own projects, opting for work they enjoy to do rather than work assigned to them by an employer.
3. Greater variety of work.
Freelancers enjoy a greater variety of work than full-time employees, which can help to break up monotony that can be associated with repetitive work. While a typical employer might discourage employees from losing focus on performing the core tasks associated with their job description, freelancers have the ability to offer a wider variety of services within their skillset.
4. Work from anywhere.
100%-remote freelancers can enjoy tremendous location flexibility and lifestyle benefits versus traditional employment. Freelancers can have no commute, set their own hours, optimize their schedule to achieve a work-life balance suited to them. Successful freelancers may even embrace the digital nomad lifestyle, traveling 100% of the time while they work remotely from exotic locations across the world.
I started my business while in Spain, working regularly with clients across the world. During my early years freelancing, I was able to travel to (among others) London, New York, Miami, Istanbul, Los Angeles, Geneva, Madrid and Amsterdam, and then permanently move to the USA – all with zero interruption to my freelance work. Other freelancer friends of mine travel between 50%-90% of the year, spending their time on the beaches of Miami, Lisbon, Bali, Phuket and the Gold Coast of Australia.
5. Freedom to choose clients.
In general, freelancers have the same power to choose clients as the average business owner. Whereas a typical employee would likely have a designated boss, freelancers do not. Full-time freelancers can choose who they work with, and in certain cases, even dictate the terms of engagement.
With 71% of freelancers reporting satisfaction with their working conditions versus 61% of non-freelancers, the freedom to choose clients is clearly a significant contributing factor for general work satisfaction. When you're able to avoid clients that appear difficult to work with, and intentionally choose clients that seem like a ton of fun, then work becomes a pleasure. On top of that, when you're making more money by working with fun clients, it's a clear win for freelance over the 9-to-5 workplace.
5. More time with family.
Personally, whenever my wife asks me if I can do a family activity, my stock response is:
"Let me first consult the Board of Directors"

My Board of Directors consists of my two dogs, Milo and Marley.
Work-life balance is often a strong consideration for freelancers, especially considering Upwork's Freelance Forward 2022 Survey showed that 52% of caregivers are freelancers. With a flexible, self-determined schedule without a commute, freelancers often enjoy significantly more freedom to spend time with their family than full-time employees working 9-to-5 in an office every day.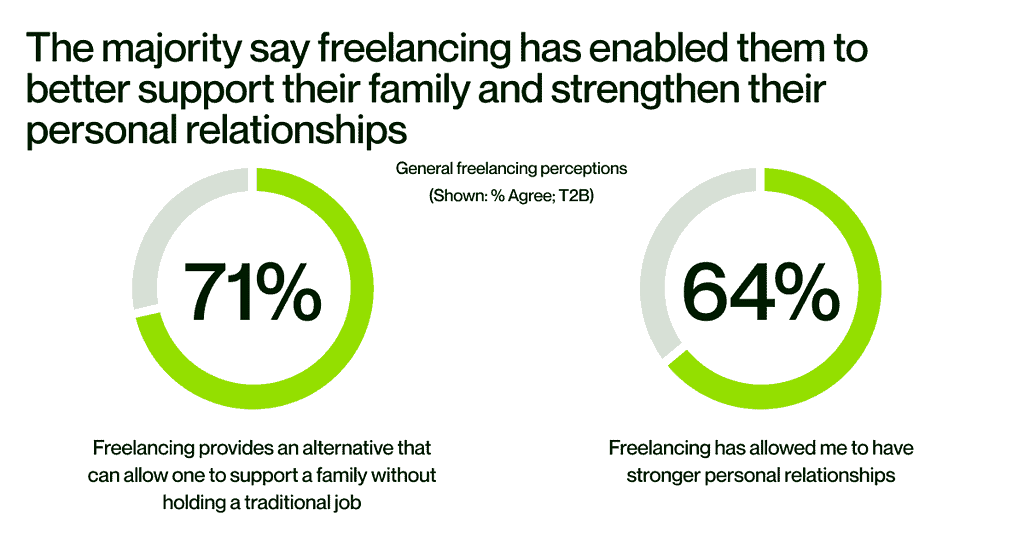 The benefits of freelance are tangible, with 64% of freelancers saying that freelancing has allowed them to enjoy stronger personal relationships.
5. You're a business owner managing your own time.
Nearly all full-time freelancers don't have bosses that micromanage, or constricting company policies to adhere to. Instead, freelancers work on their own terms, as their own boss, choosing the activities they believe are most important to their success, earnings and career development.
After transitioning from full-time employment with an overbearing and generally-unpalatable boss who loved to lean on "company policy" while directing me to work on mostly-useless things, the freedom to choose what to do with my time was mind-blowing. Middle of the day, and I want to take a break? Go for it. Have an urgent personal come up that needs attending to? No problem.
As long as you're effective when you're working, consistently growing, and spending time on the things that are important to grow your freelance business, then you'll have ample free time without someone constantly looking over your shoulder. And you won't have a boss stealing credit for your incredible work – that success will be all yours.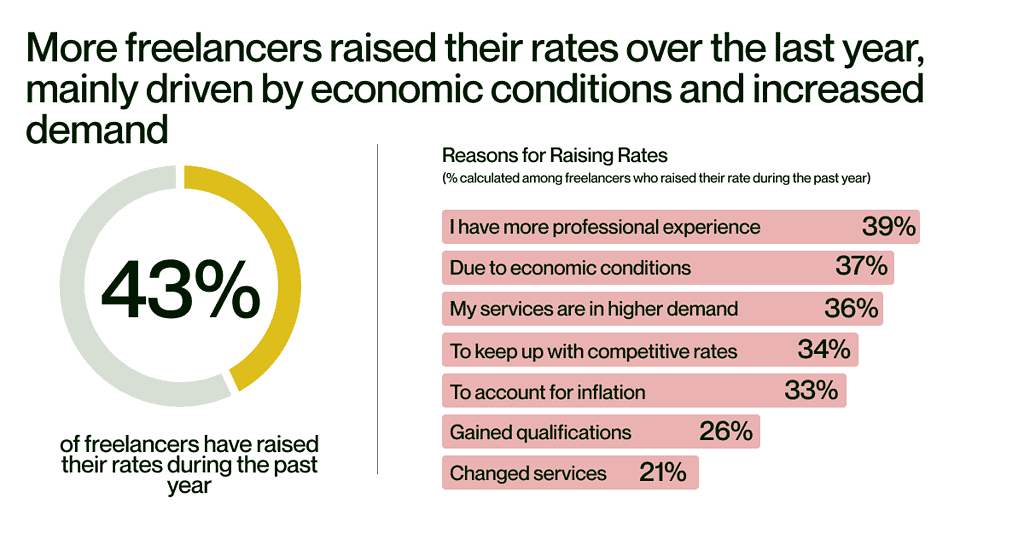 6. More experience faster.
In most cases, freelancers have a unique ability to gain more senior-level experience and actively choose to grow significantly faster than traditional employees. Freelancing typically enhances your ability to work directly with C-suite leadership, helping build up confidence in leading discussions and guiding consulting clients to appropriate solutions.
Freelancers tend to wear many hats for their own businesses, learning many different skills as they grow their businesses (e.g. sales, marketing, IT). This tends to pay off when working with freelance clients because you'll have developed more well-rounded & diverse skills from managing your own business, and better relate to the challenges of client founders, business owners & CEOs.
Should you go full-time freelance?
Freelance isn't for everyone; some people value stability, having a set schedule, or following their career path. Ultimately, the decision to go full-time freelance comes down to answering a few key questions:
Do you prefer having a set schedule, or more flexibility?
Do you like working with a team of people?
Are you comfortable working alone?
Do you want to be your own boss?
Do you want more control over your work-life balance?
Do you prefer the stability of a full-time job?
Are you willing to sacrifice some benefits (health insurance, paid vacation, etc.) for the freedom of freelancing?
Can you manage your finances if your earnings are inconsistent?
Can you handle the inconsistency of freelance work?
In general, it is important to assess whether you can consistently work on your own schedule, be your own boss, and sacrifice the benefits of full-time employment in exchange for a potentially less-consistent but highly rewarding freelance career. Full-time freelance typically lacks the stability of full-time employment and the team environment most employee roles offer.
Planning to go full-time freelance?
Check out this step-by-step guide to getting started on Upwork – Morgan Overholt also has a great Upwork review you should consider checking out.
Freelancing is typically a fit for people who can manage their time effectively, work independently and don't necessarily need the benefits associated with full-time jobs, such as health insurance, paid vacation and retirement plans. When done successfully, full-time freelancing can offer much higher annual income, total flexibility over working hours and location, full freedom over career trajectory and potentially a path toward business ownership.
This article originally appeared on freelancemvp.com, is copyright Freelance MVP LLC and is not authorized to appear anywhere else. If you have found this article anywhere else, it has been stolen.